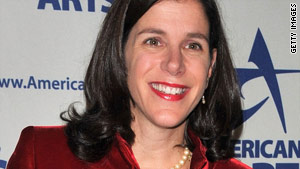 Filmmaker Alexandra Pelosi says she is no longer covering politics.
STORY HIGHLIGHTS
Alexandra Pelosi is daughter of House Speaker Nancy Pelosi
Her 2-year-old asks: "Mommy, why are they sleeping on the street?"
Orange County, California, has school that teaches only homeless kids
Many of the kids' parents work in service industry, Pelosi says
CNN's Pamela Sellers spoke to Alexandra Pelosi recently about her new HBO documentary "Homeless: The Motel Kids of Orange County," which premieres at 9 p.m. EST Monday on HBO.
(CNN) -- Alexandra Pelosi is an Emmy-nominated filmmaker known for capturing the political campaigns of George W. Bush, John McCain and Sarah Palin, as well as telling the story of the Rev. Ted Haggard.
In her new documentary, Pelosi, the daughter of Speaker of the House Nancy Pelosi, interviews homeless families in five hotels in Orange County, California, one of the country's most affluent ZIP codes.
Pelosi talked to CNN recently from her home in New York.
CNN: How did homeless children become your film topic?
Pelosi: I live in Manhattan, and on my block there's a church with a soup line every day. There are a lot of children there. So I am walking down the street with my kids, and my 2-year-old says, "Mommy, why are they sleeping on the street?" And I say, "because they don't have a home." And my son says, "Why doesn't she have a home?" I didn't have an answer. I figured when your 2-year-old stumps you, that's a topic of a documentary.
People have told you they didn't even know there were homeless kids in the OC. Yet Orange County has one of the only four schools nationwide that teaches only homeless children: The Project Hope School.
Yes. Orange County has this great school, which means they are trying to deal with the problem. A lot of communities pretend they don't have homeless and just ignore them or try to make them go away. This is truly a great school, and p.s., the kids are adorable.
Are the kids hopeful?
I don't think there will be a happy ending for the motel kids of Orange County. I hope so. But I have to think that there is a lot affecting them. They must have nutritional issues because they eat at school a lot, and then from soup kitchens. There must be a psychological, post-traumatic effect of seeing the violence they see in the motels. They talk about it. It has to have some effect.
I asked the kids what they have to look forward to, and they said, "Nothing." And I said "Nothing at all?" And they said, "Nothing." So unless these kids get a good education, these kids will fail.
Are their parents educated?
High school education. But they work these low-paying jobs. At McDonald's, Wal-Mart and, I'm sorry to say it but, Disneyland. They are all the people you see in the service sector. ... There is one nurse's assistant who is trying to be a nurse. She told me she worked the overnight shift so she could get an extra $1.90 in her paycheck. You know you spent more than $1.90 this week on a cup of coffee. These are people making more than minimum wage but not enough to keep a roof over their heads.
For anyone who is not aware of the housing situation in California, describe the issue.
I don't want to dump on Disneyland because they are employing these people and they are grateful to work for them. But you can't employ these people without a living wage. I am hesitant to say this because I don't want this to get political. I'm just here to point out the problems. I am not here to fix them. But this is not rocket science. People need to make a living wage so they can afford a roof over their heads.
Do you ever talk over your film ideas with your mother or discuss the politics of homelessness?
No. [She has told me] if you make something, you are putting a target on your back. That means that even though you have all the best intentions, you can make a film about homeless kids in Orange County but because of your name you will be prejudged. But I've been a journalist for 20 years.
Some people might be critical and say people like your mother and the White House might be the reason these kids are homeless
Also, I don't expect any criticism [from Republicans] because of Judy Biggert, who is the authority on homelessness legislation. She is a Republican from Illinois. She introduced my film at the National Press Club screening in Washington the other night. If she is writing legislation on this, it's a topic we should be talking about.
Is it true that you are done with covering politics?
I made three campaign movies. When you make one you are constantly being told what to do by press secretaries. I got tired of that. Plus, I'm older now with children. I can't be riding along on a campaign bus. I guess since I said it in Politico, it is true. I am no longer covering politics.
So what is the next subject?
I am already making another movie. This was shot last summer. I have been to [nearly] all 50 states to film naturalization ceremonies of U.S. cities.
My husband is Dutch, so I am familiar with this. It was fun to meet these people, to ask them why they are coming to America. How in some cities it is a really big deal and in others you are just in a courtroom. It's all different. I am literally starting to edit August 1.