'Idol' now open to 15-year-old aspiring singers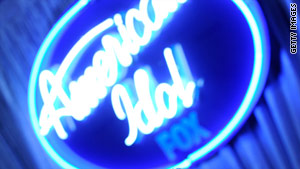 Now contestants as young as 15 have a shot at pop-music glory on "American Idol."
STORY HIGHLIGHTS
New minimum age restriction announced Monday
Previous rule required contestants to be at least 16
Season 10 auditions start July 17
Los Angeles, California (CNN) -- "American Idol" announced Monday that it is lowering the minimum age restriction for contestants from 16 to 15, allowing even younger aspiring pop stars to forgo their hairbrushes and stuffed-animal audiences in exchange for a real microphone and millions of TV viewers.
"A lot of young, talented people are now seeking careers and representation before they turn 16," Cecile Frot-Coutaz, executive producer of the popular Fox show, said in a statement announcing the change. "Lowering the age limit allows us to tap into this talent pool."
The new age restriction comes just under a month before Season 10 auditions open in Nashville, Tennessee, on July 17.
Some of the show's most popular contestants have also been its youngest. Season 6 winner Jordin Sparks was just 17 when the confetti rained down on her in the 2007 finale. David Archuleta, then 17, made it to the final two alongside David Cook in Season 7, and 16-year-old Allison Iraheta's Janis Joplin-esque voice helped propel her to the final four of Season 8.
The change also comes amid an era where teen stars are frequently topping the charts.
Singer Justin Bieber, 16, currently has three hits on the Billboard 100 and is often a trending topic on Twitter as his tween followers -- known as "Beliebers" -- tweet any tidbit remotely related to the young heartthrob. Pop star and actress Miley Cyrus, now 17, began rising to fame when she debuted in 2006 as the title character of the Disney channel's "Hannah Montana."
The influential tween audience has similarly helped feverishly build the careers of the Jonas Brothers, whose youngest member is 17, and 17-year-old singer-actresses Selena Gomez and Demi Lovato.
"Idol" is trying to reclaim its top spot in the weekly ratings after experiencing a decline in viewership this year.

FOLLOW THIS TOPIC