STORY HIGHLIGHTS
Music is at the very heart of what New Orleans represents

HBO's "Treme" captures range of genres; music director feels responsibility to get it right

Native Trombone Shorty likes playlist: "These are the people that keep the city going"

"Treme's" season finale airs Sunday; show has been renewed for second season

(CNN) -- The music of New Orleans, Louisiana, is more than just Dixieland jazz, Professor Longhair and Pete Fountain.
It's hip-hop and zydeco. It's funk and folk. It's hard rock and new wave, blues and metal, Lil Wayne and the Radiators and Fats Domino and Galactic.
If food is the soul of the city, then music is its heartbeat. (Or maybe it's the other way around.)
"Treme," the HBO show about post-Katrina New Orleans that concludes its first season Sunday, gets it. It has to get it, says music supervisor Blake Leyh. When it comes to the sound of the Crescent City, every New Orleanian is an expert.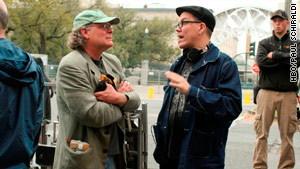 The musical choices are often collaborative, says Blake Leyh, right, with producer Eric Overmyer.
"I definitely have felt a heavy, heavy responsibility of representing New Orleans music to the rest of the world," he says. "There are so many incredible, important artists who have given so much to greater American music culture, but aren't really known outside the city. So I think that's the thing people down there were worried about initially, and now excited about -- seeing the story told to a wider audience who doesn't know it, and done with respect and love for the music."
Leyh may seem an unlikely liaison. The composer, 48, was born in New York State and raised in England -- he still speaks with a British accent -- and started his career as a specialist in electronic music before becoming a sound designer for such directors as James Cameron, Spike Lee and Jonathan Demme.
But he has New Orleans connections -- his mother and sister lived there for 10 years -- and, perhaps more importantly, he has a close working relationship with "Treme" creators David Simon and Eric Overmyer, having served as music supervisor of Simon's "The Wire."
With music playing an important role in "Treme" -- besides commenting on or emphasizing the drama, it's how a number of characters make their livings -- Leyh, the producers and the show's writers collaborate on the choices viewers hear in each episode. If Steve Zahn's Davis McAlary is listening to a record such as "I Hear You Knocking," or Wendell Pierce's Antoine Batiste is playing "Ooh Poo Pah Doo" at the airport, it's all been worked out. (The soundtracks are helpfully listed on the "Treme" website under "Funk up your playlist," a nod to the Rebirth Brass Band's "Feel Like Funkin' It Up.")
"Even before the scripts are written, we have some songs we know we'd like to use over the course of the season," he says.
Then there are the live performances, for which the writers will consult with Leyh. It's a mammoth undertaking, he says: "I'm really there from the very beginning to the very end on all of the music."
The attention to detail has paid off, say locals.
"It's really well done," says Barry Smith, co-owner of the Louisiana Music Factory record store in the French Quarter. "I think they've been picking a lot of songs from different genres and working it in really well."
"I think [Leyh's] choices have been impeccable," adds David Freedman, general manager of the city's local music-focused WWOZ-FM, whose station has been referenced on "Treme." "He really does justice to the spirit and nature of that program." The exposure hasn't hurt WWOZ, either: Freedman says there's been an uptick of visits to the station's website.
Musician and occasional "Treme" guest Trombone Shorty, who named his most recent album "Backatown" in reference to his Treme roots, says the show and its music highlight "the neighborhoods and the musicians that don't play on Bourbon Street."
"It gets the most noncommercial music that we've had on TV in a long time," he adds. "It's getting the artists that never reached the level of a Fats Domino. ... These are the people that are the heartbeat of the city, that keep the city happy, that keep the city going."
It's not always easy, says Leyh -- not with so much to choose from.
"At some point you have to stop and say, OK, this is the container we're working with. We have 300 performers and a thousand pieces of music that we would like to use this season," he says. "How are we going to fit them all in? So part of the job is distilling it down into something very concentrated that we can actually use."
Indeed, he says a bigger challenge is the "pretty deep record collections" the show's staff works from: "We argue more about which of five incredible songs to use in a particular scene, rather than stop in record stores and look for more."
He and the other "Treme" staffers will have another chance to plunder their libraries after the season finale Sunday. HBO recently renewed the show for a second year.
That will give Leyh a whole new canvas. And though he, the producers and writers may have plotlines planned, he knows there will be at least a few surprises. After all, it is New Orleans.
"One of the incredible things about New Orleans is there's music everywhere," he says. "You could walk into a music shop and hear something playing, or be in a restaurant and hear something playing, or be driving and listening to WWOZ and hear something playing, or just be walking down by the river and hear someone playing something. And think, 'I hadn't thought of that. Let's try and do that.' "
(HBO, like CNN, is a unit of Time Warner.)
FOLLOW THIS TOPIC