Gary Coleman's ex-wife seeks control of estate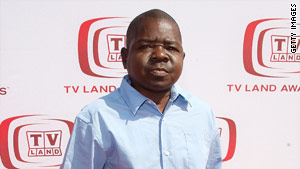 Actor Gary Coleman died last month of a brain hemorrhage after falling in his Utah home.
STORY HIGHLIGHTS
Gary Coleman's ex-wife claims common law wife status in bid for control of actor's estate
In 1999 will, Coleman named former manager executor of his estate
Shannon Price says 1999 document was not last will, asks to be special administrator
(CNN) -- Gary Coleman's ex-wife claims she was still married to Coleman as his common law wife when he died last month.
Shannon Price, 24, filed a legal challenge for control of the late actor's estate with a Utah court Thursday.
Former Coleman manager Dion Mial, named by Coleman as executor in his 1999 will, was appointed special administrator of his estate last week.
Price's petition asked the judge to overturn that appointment and make her the special administrator, which would allow her to control decisions on his funeral and cremation.
"To strip Price's ability to make these decisions and to deprive her from acting for and on behalf of her deceased spouse, at least until a hearing is scheduled, would be a manifest injustice and would strip her of every shred of dignity that she possesses," her petition said.
Mial has ordered Price to stay away from the Utah home the couple shared before Coleman's death and to return all of his property, including a truck.
Coleman divorced Shannon Price in 2008, but they were living together in Santaquin, Utah, when he suffered a fall at home last month and died two days later of a brain hemorrhage in a Provo hospital.
Price argued in her petition that she should be legally recognized as Coleman's common law wife.
"Notwithstanding the divorce decree, Price and the decedent continued to have a romantic relationship and engaged in romantic and sexual relations," the petition said.
The divorce was a secret, and they still held themselves out to the public as husband and wife, it said.
"They fought on occasion," the petition said.
Price is also challenging the 1999 will that named Mial as executor, saying the probate court should instead accept a 2007 document that was handwritten by Coleman.
CNN's Brittany Kaplan contributed to this report.
FOLLOW THIS TOPIC