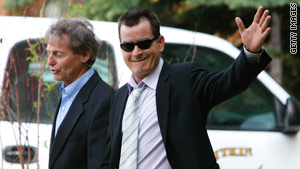 Sheen leaves after appearing at a court hearing in Aspen, Colorado on Monday.
STORY HIGHLIGHTS
NEW: Attorney: "Back at square one"
Plea deal for Sheen delayed
Sheen returns to court July 12
Proposed deal included theater internship
Actor was arrested last Christmas Day
(CNN) -- Acceptance of a plea deal that would give actor Charlie Sheen a short jail sentence on charges stemming from an argument with his wife was delayed Monday afternoon, a lawyer said.
Sheen appeared at a court hearing in Aspen, Colorado, but defense lawyers and prosecutors agreed they needed more time "to work out the glitches," according to Yale Gallanter, a lawyer for Sheen's wife.
The case was scheduled for another hearing on July 12, a court official said.
"Sometimes people have the best intentions and the stars just don't align and you have to pull the plug and regroup," Gallanter said. "And that's what we're going to do."
Sheen, 44, was arrested last Christmas Day after his wife, Brooke Mueller, told Aspen police he threatened her with a knife at their holiday home.
The proposed sentence would allow Sheen to perform community service with an Aspen, Colorado, theater during the day and spend his nights in jail, Gallanter and a theater official said.
While Gallanter would not detail what problems delayed the deal, he said the theater internship "was definitely not one of the glitches."
Sheen was smiling as he walked out of the Pitkin County, Colorado, courthouse in Aspen nearly two hours after he and his lawyer entered for Monday's hearing. He had planned to begin a jail sentence Monday evening and report for work at the theater Tuesday.
Gallanter said while they are "back at square one," he believed the plea agreement was going to eventually be accepted.
If approved by the judge, the television star would have spent the next month working at Theater Aspen by day and a jail inmate at night.
"We've often been in a position of helping people fulfill their community service, but he would be our highest profile intern," theater artistic director Paige Price. said.
Sheen's duties with the community theater haven't been outlined, but it would involve "some utilization of his skills as an actor," Price said.
Sheen, who began acting professionally in 1974, could teach master classes for professional actors working during Theater Aspen's summer productions, Price said.
The summer plays include "The True Story of the 3 Little Pigs!" -- billed as "a clever musical which follows the fate of the Big Bad Wolf."
"There's no part in that for him," Price said.
Sheen's legal trouble began last Christmas morning when his wife, Brooke Mueller, called police to their holiday home.
"My husband had me with a knife and I'm scared for my life and he threatened me," Mueller, 32, told a police dispatcher.
The police report quoted Mueller saying Sheen held a switchblade knife to her throat as he held her down on her bed.
"You better be in fear," the report alleged Sheen told his wife. "If you tell anybody, I'll kill you. Your mother's money means nothing. I have ex-police I can hire who know how to get the job done and they won't leave any trace."
An Aspen police officer wrote that he saw "red marks on the upper part of the front of her neck."
Sheen denied attacking his wife, but admitted breaking her glasses, the police report said.
The argument began when Mueller became jealous that Sheen "shared a song for his daughter, whom he fathered with another woman," the officer quoted Sheen as saying.
Sheen told police he became angry when his wife threatened to divorce him and fight for custody of their twin sons, the report said.
Aspen police charged Sheen with felony second-degree assault, felony menacing and a misdemeanor charge of criminal mischief. He was booked under his birth name, Carlos Irwin Estevez.
Both Sheen and Mueller, 32, entered substance abuse rehab several weeks after the incident.
The couple was married in 2008. Their twin sons, Max and Bob, celebrated their first birthday in March.
The son of actor Martin Sheen, Charlie Sheen currently stars in the hit CBS sitcom "Two and a Half Men." He recently signed a new contract to continue with the series.