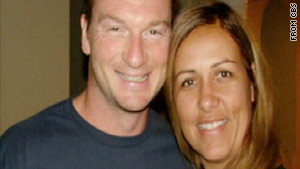 A gossip Web site says it paid for e-mails between TV producer Bruce Beresford-Redman and his late wife, Monica.
STORY HIGHLIGHTS
A friend of producer's late wife reportedly sells e-mails to Radaronline.com

If authentic, the e-mails could support a claim that the couple had a troubled marriage

They were sold a day after the woman's mother gave copies of e-mails to Mexican authorities

The gossip website bid for the e-mails with another gossip site and a TV outlet

Los Angeles, California (CNN) -- "A very close friend" of a woman killed at a Cancun, Mexico, resort sold e-mails purportedly exchanged between the dead woman, her husband and his alleged mistress to a gossip website, the website said.
The e-mails were published by Radaronline.com on Thursday, a day after Ely Burgos, Monica Beresford-Redman's mother, gave copies of e-mails to Mexican authorities investigating her death.
A lawyer for the dead woman's family said the e-mails did not come from them and she pleaded with "the person who has obtained them to stop leaking information to the media that may be critical to the pursuit of justice."
"We have been aware of their existence for some time now and have shared them with the proper authorities," attorney Alison Triessl said. "Given their sensitive nature, we asked the authorities that they be preserved and kept confidential, as we believe they are relevant to this ongoing investigation."
Reality TV producer Bruce Beresford-Redman was detained as a suspect on April 8, soon after his wife's body was found in a sewer near their Cancun hotel. He was released a day later while police gathered more evidence.
The initial investigation suggested Monica Beresford-Redman "died of strangulation, because of the bruising," regional police spokesman Adrian Cardena said.
If authentic, the e-mails support what a source close to the wife previously told CNN: that she cleaned out the family bank account and took her two children to Hawaii because she was upset about her husband's extramarital affair. The couple later traveled to Cancun in an effort to repair their marriage, the source said.
A Radaronline.com spokeswoman would not tell CNN who sold the e-mails, but described the source as "a very close friend of Monica's." "Monica forwarded on the e-mails to the source while she was still alive," the website said.
"We have multiple communications between Monica and the source, as well as photos of the two of them together, proving their close friendship."
One of Monica Beresford-Redman's sisters helped the website confirm "their validity," she said.
Radaronline.com declined to reveal how much was paid, but said, "We bid against TMZ and a TV outlet."
A spokeswoman for the Burgos family said they had a "huge money concern" because of the expenses involved in transporting the body from Mexico to Los Angeles, California, for burial. A fundraiser is being planned for Sunday, she said.
"If they were a close friend I hope they would get the money to the family," spokeswoman Valerie Allen said.
Bruce Beresford-Redman built his career as a Hollywood reality television show producer. He worked for several seasons on the popular CBS show "Survivor," in which contestants compete against each other in a variety of extreme outdoor scenarios. He was nominated for three Emmys as a producer on the show and was last credited as a producer in 2004. He also worked on NBC's "The Contender" and "The Restaurant" as well as MTV's "Pimp My Ride," according to entertainment media company IMG.
Monica Beresford-Redman, a native of Brazil, owned a restaurant in Los Angeles.