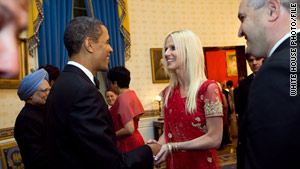 Michaele and Tareq Salahi met President Obama, although the White House says they were not invited.
STORY HIGHLIGHTS
Michaele and Tareq Salahi crashed a state dinner, White House says
Now they'll be part of "Real Housewives of DC," their representative says
"I guess the moral of the story is, gate-crashing pays," media analyst says
Washington (CNN) -- White House "gate-crashers" Michaele and Tareq Salahi are to be featured in the upcoming series "Real Housewives of DC," according to their media representative.
Max Markson, who is based in Australia but handles worldwide media for the couple, said they have landed roles on the Bravo series for which they were auditioning in November when they attended a White House state dinner without invitations.
A spokeswoman for Bravo declined to comment on the cast of the show until an air date is announced. The Web site thedailybeast.com reported the series would begin in July.
The Salahis caused a stir on November 24 when they attended a state dinner held for visiting Indian Prime Minister Manmohan Singh. The couple even had a photograph taken with President Obama.
"I guess the moral of the story is, gate-crashing pays," said Howard Kurtz, the media analyst who is host of CNN's Reliable Sources. "This is a naked attempt by Bravo to cash in on the notoriety and controversy surrounding the Salahis, and guess what: It's probably going to work. A lot more people will probably watch the show."
But not all the parties involved have made out so well.
An investigation found that the Secret Service, which handles security at presidential events, did not follow protocol at a security checkpoint. The service admitted the Salahis, identified as "aspiring reality show stars" at the time, should have been prohibited from entering.
Secret Service Director Mark Sullivan told lawmakers after the incident, "This is our fault, and our fault alone."
A spokesman for the Secret Service said Friday that some officers were placed on paid administrative leave, but declined to say if they had been disciplined.
Desiree Rogers, the White House social secretary in charge of planning the dinner, stepped down from her position a few months after the incident. She said at the time it was not because the Salahis had mistakenly been allowed in.
"It has nothing to do with that," she said. "It's Secret Service's job to handle security. Not the social secretary's office."
The Salahis appeared before Congress in January, but invoked their Fifth Amendment right to not answer any questions that could be potentially self-incriminating.
"This was not a stunt, and they committed no criminal act," said their attorney Stephen Best after the hearing. "They thought they were invited."
A grand jury has heard testimony from several witnesses in the incident, including Michaele Salahi's Georgetown hairstylists and, according to a source close to the family, her mother.
"I don't think they will be prosecuted," said CNN legal analyst Lisa Bloom. "Four months have passed. I would have expected an arrest by now if it was going to happen."
Instead, the controversy was more likely to tempt more viewers to watch the Bravo series.
"Every reality show needs a villain," said Bloom. "I'm curious about them, to be honest."
CNN's Brian Todd contributed to this report.