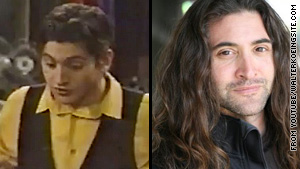 Andrew Koenig played Richard "Boner" Stabone, at left, on the 1980s TV sitcom "Growing Pains."
STORY HIGHLIGHTS
Andrew Koenig, former "Growing Pains" actor, has been missing for several days

Father and mother traveled to Vancouver, where he disappeared, to appeal for return

"You are loved, you count and you matter," said mother in a message

(CNN) -- Andrew Koenig's father, hoping his missing son just wants to be alone for a while, made an emotional appeal directly to him Wednesday.
"I just want to know you're OK," Walter Koenig said at a news conference in Vancouver, Canada. "If it means you just want to stay here, that's OK. You don't have to come back. Just let us know that's your intention."
Walter and Judy Koenig have been distraught since they realized the former "Growing Pains" star missed his flight from Vancouver to Los Angeles, California, last week.
The last time anyone who knows Koenig saw him was at a friend's Vancouver home on February 14, police said.
About 30 police officers formed search teams Tuesday to scour the city's 1,000-acre Stanley Park, where friends said Koenig, 41, liked to take long walks, police said.

Video: Parents plea for missing actor

Video: 'Growing Pains'?actor missing
"There has been no evidence that Andrew was recently in the park," Constable Tim Fanning said.
Walter and Judy Koenig traveled from their Los Angeles home to Vancouver on Tuesday to meet with police.
"We think he was probably in a very depressed state," his mother said Wednesday.
Judy Koenig sent a message to her son that "you are loved, you count and you matter."
"Andrew, there is help," she said. "You have so many gifts to offer this world and so much yet to do in this world. Look how many people love you and care about you."
Walter Koenig -- himself an actor known for his role as Pavel Chekov in the "Star Trek" series -- said his son has loved Vancouver since he first visited there to film "21 Jump Street" in 1988.
The Koenigs said they received a letter from him last week in which he wrote in a "despondent tone."
He had been taking medication for depression, but he stopped taking it about a year ago, his father said.
Unknown to his parents at the time, Andrew Koenig sold or gave away many of his possessions and moved out of his Venice, California, apartment before traveling to Canada, the family said.
Brian Cecchi, a former neighbor, told CNN affiliate KABC-TV of Los Angeles he was surprised when he learned that Koenig had moved away.
"He had a couple of garage sales ... and then he just up and left one day," he said. "I was very surprised that he didn't say goodbye to me. He didn't say goodbye to any of the neighbors."
Police released a statement saying they have received much information since Koenig was reported missing. They said they are following up on that information and that "investigative avenues are being checked and rechecked."
"Cell phone and banking records up until the time he disappeared lead police to believe he is still in the Vancouver area," the police statement said. "There has been no cell phone or bank activity since February 16, when he was last seen in south Vancouver."
The actor is described as being 5 feet, 5 inches tall and weighing 135 pounds, with brown shoulder-length hair and brown eyes, authorities said. Anyone with information on his whereabouts is asked to notify police.
Koenig appeared in 25 episodes of "Growing Pains" from 1985 to 1989, playing Richard "Boner" Stabone, according to a filmography posted on the Internet Movie Database Web site. He also has appeared in episodes of several other television shows.
Koenig is also an activist with an interest in many causes, his father's Web site says. He was arrested at the Rose Bowl in 2008 while protesting U.S. involvement in the 2008 Summer Olympic Games in China. He opposed U.S. participation because of China's support for a repressive regime in Myanmar, also known as Burma, the Web site says.