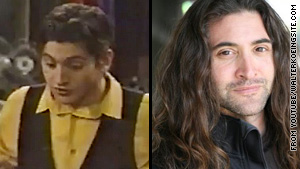 Andrew Koenig played Richard "Boner" Stabone, at left, on the 1980s TV sitcom "Growing Pains."
STORY HIGHLIGHTS
NEW: Walter Koenig, wife to travel to Vancouver to assist with search for son
Andrew Koenig had been visiting friends in Canada when he went missing
Actor is best known for playing Boner in 1980s sitcom "Growing Pains"
Police have characterized Koenig as "despondent" and said his family is worried
Los Angeles, California (CNN) -- When former "Growing Pains" actor Andrew Koenig missed his flight home to Los Angeles from Vancouver, British Columbia, last week, his father became worried.
Walter Koenig, an actor known for playing Pavel Chekov in the original "Star Trek" series, had just received a letter from his son that had a "despondent tone," according to a family statement on the father's Web site.
Two days later -- on February 18 -- the elder Koenig and his wife, Judy, called Vancouver police to report their 41-year-old son missing, Detective Raymond Payette said.
"Andrew has recently been despondent and his family and friends are concerned for his well-being," a police statement said.
Although the Koenigs are reaching out for public help, their son's disappearance is too painful for them to appear on camera to talk about it, Walter Koenig said.
"I tried it once, and it was just too difficult," he said.
The parents last talked on the phone to their son February 9, a week before he failed to board his flight home, the family statement said.
"Andrew was suffering from depression at the time of his disappearance," the family said.
Walter and Judy Koenig will travel to Vancouver on Tuesday to assist with the search, a family spokesman said.
Andrew Koenig, who was in Vancouver to visit friends, was last seen by those friends at a Vancouver bakery on Valentines Day, two days before the missed flight, police said.
Walter Koenig, in the posting on his Web site, said he did not believe there was one specific incident that led to his son's disappearance.
"I think it's something that has been a part of his makeup for a long time," he said. "There's no single trauma. There's no episode. There's nothing of that nature." He also said drugs were not an issue.
"It was also discovered that Andrew sold or gave away a number of his possessions before flying to Canada, and he refused a job, saying he 'wasn't going to work anymore,' " the family statement said.
Andrew Koenig was described as being 5 feet 5 inches tall and weighing 135 pounds, with brown shoulder-length hair and brown eyes, authorities said. Anyone with information on his whereabouts is asked to notify police.
Koenig appeared in 25 episodes of "Growing Pains" from 1985 to 1989, playing Richard "Boner" Stabone, according to the Internet Movie Database Web site. He also has appeared in episodes of several other TV shows, including "Star Trek: Deep Space Nine," "G.I. Joe," "My Two Dads" and "21 Jump Street."
His father's Web site describes him as "a gifted and passionate, multitalented young man."