Freshman Justin Bieber takes on seniors at AMAs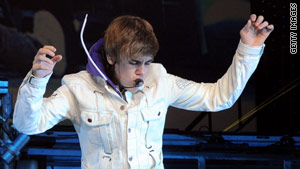 Singer Justin Bieber was scheduled to perform at the American Music Awards Sunday night.
STORY HIGHLIGHTS
Justin Bieber takes on veteran stars for the top AMA trophy
Rihanna opens the American Music Awards show
Gaffes and controversies often overshadow the winners
Los Angeles, California (CNN) -- Teen pop sensation Justin Bieber goes head-to-head with veteran rapper Eminem at 38th annual American Music Awards Sunday night, just 18 months after Bieber's first single hit the charts.
Bieber, just 16, and Eminem are both nominated for "Artist of the Year" and favorite male pop or rock artist in the competition decided by fans' online voting. Usher, who helped launch Bieber's career, is also vying against his protege in the favorite male category.
Three women are competing with Bieber and Eminem for the top award, including Ke$ha, Lady Gaga and Katy Perry.
Eminem and country trio Lady Antebellum lead the nominations with a chance to win in five categories.
The AMA honors artists in the categories of Pop/Rock, Country, Rap/Hip-Hop, Soul/R&B, Alternative, Adult Contemporary, Latin, Soundtracks and Contemporary Inspirational.
The live show -- at least for the eastern half of the United States -- may be watched as much for the potential gaffes and controversies than for the trophies.
"American Idol" runner-up Adam Lambert created a frenzy when he added a man-to-man kiss to his choreography during his performance a year ago.
Some controversies may be contrived to create media buzz, but a stumble by Jennifer Lopez during a dramatic dancing jump last year likely was not. ABC-TV spared Lopez some embarrassment by editing out her fall for the taped-delayed west coast feed.
The three-hour broadcast starts at 8 p.m. Sunday when Rihanna takes the stage at Nokia Theatre in downtown Los Angeles.
Nominees Bieber, Usher, Katy Perry, Ke$ha will also perform.
Other star performers include Kid Rock, Miley Cyrus, Taylor Swift, Carlos Santana, Ne-Yo, Christina Aguilera, Diddy-Dirty, Bon Jovi, P!nk and the Backstreet Boys with the New Kids On The Block.