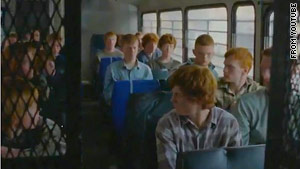 The "Born Free" music video features the rounding up and terrorizing of red-headed males.
STORY HIGHLIGHTS
Rapper/singer M.I.A. has a graphic video for her new single "Born Free"
The almost nine-minute presentation includes nudity and scenes of brutality
Writers say the artist is making a political statement
Reaction from fans on Twitter has ranged from praise to disgust
(CNN) -- If singer/rapper M.I.A.'s purpose was to get people talking about her new single "Born Free," she succeeded.
The Sri Lankan-born artist debuted the graphic video on Monday. Immediately, fans took to social media to debate its scenes of military force, violence and brutality.
"M.I.A. is a provocateur and someone who tries to rile people up in a variety of ways," said Saul Austerlitz, author of "Money for Nothing: A History of the Music Video from the Beatles to the White Stripes."
"I think one of the main routes that she takes to that end is the political, and this video has a lot of political resonances, things like Guantanamo, the Iraqi insurgency and the Taliban all sort of jumbled together and rebranded."
The almost nine-minute video for the song from her upcoming album includes nudity as well as scenes of brutality. Directed by filmmaker Romain Gavras, the video revolves around the rounding up of red-headed young men by a group of military commandos.
At one point, a boy is shot point-blank in the head and another young man is blown to pieces. YouTube reportedly yanked the video in light of its content.
Sasha Pasulka, managing editor for pop culture website "Evil Beet," said M.I.A. couldn't have played the publicity game better.
"It's much better for her that YouTube pulled it because now she gets to rant about that," Pasulka said.
And rant the artist did. She took to her official Twitter account to berate her record label, Universal Music Group, for the video being pulled.
"(Expletive) UMG WHO WONT SHOW IT ON YOUTUBE!" she wrote before tweeting four minutes later "OK NOT UMG FAULT!"
A request by CNN for comment from M.I.A.'s publicist did not receive a response.
Pasulka said M.I.A. is following the tradition established by artists such as Michael Jackson in using a longer video as a means of artistic expression. And while it is not clear exactly what message M.I.A. is trying to get across, Pasulka said it is obvious she is trying to provoke thought among viewers.
"If you look at M.I.A.'s life, there is a history of political activism," Pasulka said. "She's the daughter of a revolutionary who fought for an independent state in Sri Lanka, so she is obviously trying to make a political statement."
On Twitter, fans like one who goes by the moniker "ziggy0stardust" appealed to the artist for her inspiration by writing "@ M.I.A. can u tell us what u were tryin (sic) to say wiv (sic) the born free vid please" while other reactions ranged from those like "Hadge" who wrote "I just watched M.I.A.'s new music video for "Born Free" and now I feel like throwing up. What an awful, awful video" to those like SEFGray who tweeted "M.I.A's Born Free video blew me away, along with the actors."
MTV.com writer James Montgomery hailed M.I.A. for the unflinching video.
"Yes, it's brutal and at times a bit overly dramatic, but it's also a form of political protest, a downright subversive bit of art created by an artist on a major label, Interscope," Montgomery wrote.
Austerlitz pointed out that the video's director is the son of Costa Gavras, a noted filmmaker whose work has also blended politics and entertainment. M.I.A.'s video also took inspiration from the 1971 film "Punishment Park," written and directed by Peter Watkins, Austerlitz said.
"['Punishment Park' is] a movie about a totalitarian state where young people are rounded up, brought out to a deserted area and essentially told if they could outrun the police, they could live, but that the police would basically be hunting them," Austerlitz said.
"It's sort of a dystopian look at late '60s American protests and student movements," Austerlitz added. "It's clear that the second half of the video has been taken almost shot for shot from that film.
In an age where so many musicians are trying to break free from the pack and be viewed as artists with something to say, Pasulka said M.I.A. may have succeeded in generating even more buzz than the industry's current poster girl for all things provocative -- Lady GaGa.
"I would say she out-GaGaed Lady GaGa," Pasulka said. "This has the potential for even more coverage than all of the interest that surrounded 'Telephone.' "