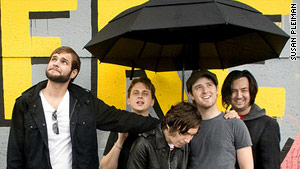 Middle Distance Runner's Stephen Kilroy acknowledges "we have a hard time sticking to one particular sound."
STORY HIGHLIGHTS
Middle Distance Runner's new album is "The Sun and Earth"

Band has gone independent route, selling its own CDs, using Internet extensively

Frontman Stephen Kilroy has no apologies for making accessible music

Los Angeles, California (CNN) -- In 1971, 1981 or 1991, Middle Distance Runner, the indie-pop craftsmen from Washington, D.C., might have become the biggest band in America.
But these days, a one-time can't-miss formula -- meticulous, smart pop within a hook-laden rock song -- is a harder sell.
Nevertheless, the band refuses to go with current trends, even if it doesn't mind switching up on styles, as is evident from its new record, "The Sun and Earth."
"We have a hard time sticking to one particular sound because our influences are all over the place. ... [But] with this record, we wanted it to be more organic," frontman Stephen Kilroy said.
Kilroy also downplays the possibility that MDR might have broken out in previous decades.
"I've thought about it, and ... I just can't see where the visibility would come from," said the frontman, pointing out the need for big record labels back then. He sees today's technology-driven DIY work as something more "manageable." Moreover, Middle Distance Runner may sell its own albums, by hand, at shows, but the band is also a fixture on many online music distribution sites, and it's had a viral hit with the music video for "The Unbeliever."
The work model has paid off. The band has gone from a regional act to selling out shows around the country. It's featured in ad campaigns from MTV, Harley Davidson and HBO. Paste magazine says the band is "on the verge of something big." It might be right. (You can find out for yourself; the band hit the road last week.)
CNN talked with Kilroy recently. The following is an edited version of the interview.
CNN: How has the D.C. scene influenced your band?
Stephen Kilroy: It's given us a lot of space to learn how to do things at a grass-roots level. Before we had any official representation, we did everything ourselves. [Also,] it's not as hectic or cutthroat as New York. The close-knit nature [of the D.C. music scene] has helped us get off the ground.
CNN: As a D.C. band, have you found that it's easier or harder to write political songs?
Kilroy: It's certainly easier to write when things are going wrong, like if I'm in a bad relationship -- I'll write until my hand falls off. We finished the album just before the election, so we had recorded everything by then. But I have tried to write since then, and it's kind of hard to be angry about anything because things went my way [in that election].
But there are things to write about. Not everything in the world is fine. Like "Sundays are Hell" is partially about gay rights, which is far from fixed. Anyone that wants to bring down that big swell of optimism we had [coming off the election], which is a lot of people, is kind of infuriating.
CNN: Is it unavoidable having political themes in your songs, living in that city?
Kilroy: Oh, definitely. I don't want to come off as some opinionated artist that doesn't know what they're talking about, but it is hard not to get involved in that when half of your friends work in government. It's tough. You see a lot of dirty [stuff] going down.
CNN: Pop music has certainly come into prominence with indie rock, whereas before, it was taboo. Does your band strive for accessibility?
Kilroy: "Pop" was even a bad word at the turn of the millennium. The Backstreet Boys were pop, you know? I naturally write melodies first and try to make something pretty. I've always had an aversion to the type of music that has no accessibility at all. I don't see a point in inaccessible music. Music is meant to make ideas more accessible, as far as I'm concerned. If I can't put a melody to lyrical ideas that I have, then it wouldn't be palatable.
CNN: Your band is a prime example of success through the Internet.
Kilroy: We are kind of inseparable from it. ... It's made it easier to reach people who we would normally have no way of reaching. It helps with word of mouth.
Suddenly, we have fans in Spokane. How else could I get the word out in Spokane? We take it for granted, to an extent.
CNN: Do you think record labels are endangered?
Kilroy: No, because I think that even if you can do all the legwork yourself, it is still hard to get the attention of certain media outlets if you don't have certain pieces to the puzzle. It's hard to get on, say, Pitchfork or CNN if you don't have a label or press agent. It helps a lot. There will always be a place for those people, although they might have to change their model a little bit, especially the big labels.
CNN: What advice would you give to a band starting tomorrow as far as putting themselves out there online?
Kilroy: Get a profile on every music outlet online. MySpace, Facebook, everything. Put up as much music as you can for free, at least at first. Just give it away and get it in people's ears. Don't worry about getting paid at first, because you're not going to get paid until much later anyway.
Do the same in tangible ways, too. Go and physically hand out CDs. Don't rely on the Internet solely. You have to be a human. Shake hands.