Still No. 1, 'Social Network' finds steadfast friends at box office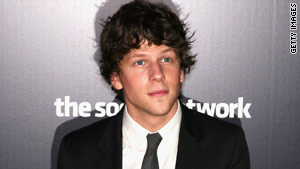 Jesse Eisenberg stars in "The Social Network," which kept its No. 1 spot at the box office for a second week in a row.
STORY HIGHLIGHTS
"Social Network" has total gross of $46 million at box office after only 10 days in release
"Life as We Know It," with Katherine Heigl and Josh Duhamel, comes in No. 2
Disney's "Secretariat" races in to claim the No. 3 spot
"Jackass 3-D" expected to break the $20 million barrier next weekend
(EW.com) -- With all three new releases under-performing, "The Social Network" from director David Fincher landed in first place for a second weekend in a row with a $15.5 million opening.
"Social Network" dropped only 31 percent its second weekend for a total gross of $46 million after only 10 days in release.
"Life as We Know It" landed in second place with $14.6 million. The Katherine Heigl, Josh Duhamel-starrer was expected to gross closer to $18 million. But according to exit pollster Cinemascore, those that did see the romantic comedy loved it, giving it an A-.
The predominantly female, over-25 audience was heavily courted this weekend, also being lured by the Diane Lane horse movie "Secretariat." That film, from Disney Studios, earned an estimated $12.6 million, overperforming in smaller markets such as Salt Lake City, Utah; Denver, Colorado and Dallas, Texas. It also scored very well with those female, over-25 moviegoers, who gave it an A, according to the exit pollster.
Slot four belonged to family holdover "Legend of the Guardians: The Owls of Ga'Hoole." The Zack Snyder-directed animated flick earned $7 million its third weekend in release. The film has earned $39 million.
Spot five marked the poorest-received release of the new crop of films. Wes Craven's first endeavor into 3-D "My Soul to Take" earned $6.9 million in over 2,500 theaters with 86 percent of the gross coming from the 3-D screens. The Relativity release was hated by audiences, who gave it a D, according to Cinemascore, and those audiences polled who were over 25, liked it even less, giving it an F.
The rest of the Top 10:
6. "The Town"
7. "Wall Street: Money Never Sleeps"
8. "Easy A"
9. "Case 39"
10. "You Again"
The past month has belonged to a slew of interesting adult dramas that have scored well with both audiences and critics but have had trouble generating much beyond $20 million openings.
Next weekend should change the $20 million trend with "Jackass 3-D" opening wide opposite the old fogey actioner "Red."
FOLLOW THIS TOPIC


Most popular stories right now