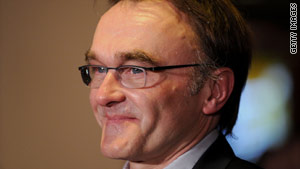 Danny Boyle has directed a host of movies including "Trainspotting" and "The Beach."
STORY HIGHLIGHTS
'Slumdog' director Boyle to head 2012 Olympic opening ceremony
Boyle will come up with theme, shape the show
Ceremony attracts global TV audience of hundreds of millions
Boyle born in Manchester, has theatre background
London, England -- British director Danny Boyle, who won an Oscar for his movie "Slumdog Millionaire," has been named artistic director of the London 2012 Olympic Games opening ceremony, the organizing committee announced Thursday.
Boyle will come up with the theme for the ceremony and shape the show itself, which is watched by a global TV audience of hundreds of millions of people. The ceremony in Beijing in 2008 attracted a TV audience of 1 billion, London Olympic organizers said.
"It's a wonderful opportunity, a very intimidating opportunity, and that's a challenge, as it should be, because all those athletes are going to be challenging themselves," Boyle told CNN. "That's the whole point of the Olympic Games."
Boyle's international profile, theatre experience and British background -- he was born in Manchester and has lived in London for most of his adult life -- all made him the right person for the job, London Olympic officials said Thursday.
"His ability as a storyteller, as a creator of spectacle, his background in both theatre and film and the passion he has for this city and this project -- they all just screamed at us," said Bill Morris, director of Culture, Ceremonies, Education and Live Sites for the London Games. "It wasn't a difficult choice."
"It's a wonderful opportunity, a very intimidating opportunity, and that's a challenge.
--Danny Boyle
London Olympic organizers settled on Boyle after starting consultations last year, Morris said, and they said they had no trouble bringing him on board.
"I'd love to tell you it was a huge challenge and we had to drag him kicking and screaming," said London 2012 Chairman Sebastian Coe. He recalled Boyle telling him he would be prepared to make tea just to be involved in the Games.
"Danny gets this," Coe told CNN. "He gets the Olympic Games, he gets sports, he lives in London, he's a stone's throw from the Olympic Park, and it was just such an obvious fit."
Boyle, whose film credits also include "Trainspotting" and "28 Days Later," said his mind has already begun to "flood with images and ideas" for the show, but he refused to reveal any of them. The only hint he gave was that the normally three-hour ceremony would have elements that start earlier the same day, around the Olympic Stadium.
What the team won't do, he said, is try to copy the enormous spectacle of the 2008 Bejing Olympics.
"For all sorts of reasons, you can't, you shouldn't, nor could you compete with it," he said. "That's the zenith. For 50 years, I don't think anybody will ever get near that particular ceremony in the way that it was done. So it's a chance to think oh, well, you could do it differently ... and (there's) an opportunity and a freshness that that can bring."
The biggest challenge for him is the expectation of the crowds, he said. The ceremony should be both fitting for a world event and "truthful and honest," he said.
"I want it to feel like a very genuine expression of the welcome to the athletes and to the Games of the city, and especially from east London," he said.
Boyle will work with a four-person team that also includes Stephen Daldry, the Oscar-nominated director behind the movies "Billy Elliot," "The Hours," and "The Reader." He adapted "Billy Elliot" for the London stage, and the show won 10 Tonys when it later transferred to Broadway.
Another member of the team is Mark Fisher, who has designed some of the most memorable rock concerts ever staged, including Pink Floyd's The Wall, every Rolling Stones show since 1989, and every U2 concert since 1992. Fisher has worked on two Cirque du Soleil shows and the opening and closing ceremonies for the 2006 Turin Winter Games.
To make sure the ceremony has TV in mind, the team includes Hamish Hamilton, who has directed MTV award shows, a Super Bowl halftime show, this year's Academy awards, and concert DVDs for U2, Madonna, and Jennifer Lopez.
The last member of the team is Catherine Ugwu, who was the senior producer for the Vancouver opening and closing ceremonies and has been involved in other international sporting events and arts festivals.
FOLLOW THIS TOPIC