At irreverent awards ceremony, Bullock says she's ready to move on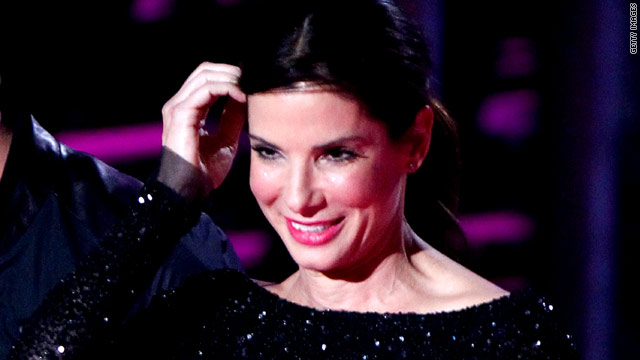 STORY HIGHLIGHTS
Sandra Bullock locked lips with Scarlett Johansson at MTV Movie Awards
Awards show was one of Bullock's first appearances since reports that her husband cheated
Bullock was first woman to take home the network's Generation Award
(CNN) -- Actress Sandra Bullock didn't shy away from the spotlight at the MTV Movie Awards Sunday -- one of her first public appearances since reports surfaced that her husband Jesse James cheated on her.
"No matter what you might have seen, or heard, or read lately, I love what I do, and I'm not going anywhere," she said. Minutes later, she locked lips with fellow-actress Scarlett Johansson on stage.
Bullock -- whose life has been tabloid fodder since news of her husband's affair surfaced shortly after she won an Academy Award -- received a standing ovation when she received MTV's Generation Award award.
"Okay, now that we have done that, can we please go back to normal? Because therapy is really expensive. Go back to making fun of me, I don't care," she said.

Video: Cruise, Bullock rock MTV Awards

Video: Everybody loves Sandra Bullock

Video: Stars turn out for MTV Movie Awards
"It's time to get back to normal, and I think when we go to bed tonight we should think about all the people that are being affected in the Gulf and just say a prayer for them and hope that everything's going to be okay."
Bullock, 45, was the first woman to take home the Generation Award, which MTV says is given to a star who has "engaged the MTV audience throughout their career."
The MTV show was supposed to be her first appearance since the tales of her husband's infidelity hit headlines. But she made an unexpected appearance at Spike TV's Guys Choice awards Saturday.
Another show-stopping moment at the MTV ceremony came at the beginning of the show, when Tom Cruise reprised his role as the hirsute, foul-mouthed movie producer from "Tropic Thunder" for a dance sequence with Jennifer Lopez.
The MTV Movie Awards are like the more entertaining younger cousin to the Oscars and the Golden Globes, mainly because the same movies that don't get much love from critics are also the very ones that are up for multiple Golden Popcorn statues.
This year's round of nominees were no different, with "Twilight: New Moon" showing up in nearly almost every category. It won best movie, and lead actors Kristen Stewart and Robert Pattinson also took home statues for their roles.