STORY HIGHLIGHTS
Tyler Perry's latest box office hit is hardly a surprise -- he's been doing it for five years

Industry experts say Perry has built a multimillion dollar brand outside Hollywood

There will likely be short-term imitators, but a lasting impact on cinema is more doubtful

Yet despite the critics, Perry still has enormous potential overseas, a commentator said
(CNN) -- Tyler Perry has done it yet again. His latest opus to the melodrama of marriage, "Why Did I Get Married Too," landed at No. 2 at the box office last weekend, with a gross of $29 million.
But at this point in Perry's career, his ability to sell movie tickets in spite of mostly poor critical reception is no surprise. The 40-year-old actor, author and filmmaker has gone from promoting his own plays to become a full-fledged brand -- one that, although created outside of the Hollywood machine, is causing some industry people to take notice.
"Perry's kind of unrivaled in the sense that he can open a movie no matter what; he really has tapped into a specific storytelling form," said Cinematical.com film critic Todd Gilchrist. "At this point, he has such a consistent built-in audience, they're pretty much going to come out and see the movies no matter what, because they're familiar with his style."
Being a filmmaker with a following doesn't happen every day, Gilchrist points out, but that's just part of the reason the Perry brand stands out. Coupled with Perry's devoted audience is a shrewd head for business.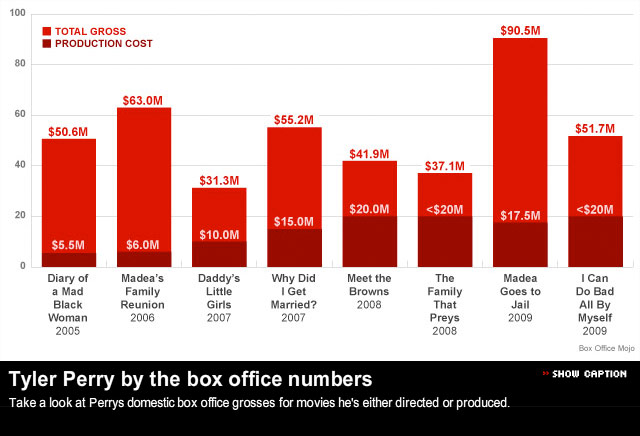 "Perry's ['Why Did I get Married Too'] has already paid for itself," said Doug Brode, film historian and adjunct professor at Syracuse University's Newhouse School of Public Communications. "Even if it drops off the chart for a couple of weeks, it goes to DVD and pay per view, and it's going to make a small fortune."
And Perry's business profile is diverse. He was executive producer on Lee Daniels' critically acclaimed movie "Precious," authored the book "Don't Make a Black Woman Take Off Her Earrings: Madea's Uninhibited Commentaries on Love and Life" and continues to produce two original sitcoms, "House of Payne" and "Meet the Browns," airing on TBS, owned by CNN parent company Time Warner.
As a result, Perry has become a filmmaker who is actually outside of Hollywood, and in a league with the Oprah Winfreys and Martha Stewarts of the world, said Lacey Rose, who edits the Forbes Celebrity 100, a list of the most powerful people in entertainment and entertainment-related industries.
According to Forbes, Perry earned $75 million from June 2008 to June 2009, making him the 30th most powerful celebrity and the 10th top earner for that year.
"He's a media mogul who dabbles in everything. If nothing else, his success has taught the film industry not to underestimate Tyler Perry," Rose said. "This is a guy that never stops. He has two television shows [and] several movies launching this year -- he's constantly working and providing product to his audience."
An audience -- predominately African-American, many of whom are the church-goers Hollywood thinks don't go to movies -- that was largely ignored by the industry until Perry came along, Rose pointed out.
"He's proven that [his audience] is not a niche audience. He has a loyal relationship to them and he's had it for many years," she said. "The reality is that he doesn't need Hollywood."
Film critics are also well aware that Perry's moviegoers aren't always interested in reviews. "Madea Goes to Jail," not a critical favorite in 2009, had a $41 million opening weekend, going on to gross $90 million domestically.
Those may not be "Avatar" dollars, but Adam Nayman, a Toronto-based film critic and contributor to industry publications Eye Weekly and Cinema Scope, said Perry's box office openings are commendable, especially if viewed in context.
"If you want jaw-dropping box office numbers, it would have to be 'Madea vs. Transformers.' Think about the box office history of films featuring black actors ... and even if you leave race out of it, the money the movies make is astounding because he's the only real star in the first place," Nayman said, pointing out that 'Diary of a Mad Black Woman' made $50.6 million at the box office in 2005 without any major star power behind it.
There's also the reality that Perry's movies go against every box office blockbuster rule there is. "He's explicitly said he's going to make films for a female audience, and his movies don't feature special effects. They're not genre films, and they're also not remotely aimed at teenagers," Nayman said.
Low production budgets, a committed audience and good box office returns add up to a desirable bottom line, especially in Hollywood.
"What could happen -- because that's what happens with independent films -- that studios co-opt them," said Joe McBride, a San Francisco State associate professor of cinema. "The low budget monster movies that an independent producer in the '70s was doing became 'Jaws' and 'Close Encounters of The Third Kind.' "
That can only be a good thing, said veteran casting director Avy Kaufman, because it can translate into more roles for a larger variety of actors.
"Yes, Tyler Perry did open up a new genre -- and he's getting a lot of people going to the theater," Kaufman said. "It's inspiring, and I do think that his success at the box office has created more parts."
Nayman believes we may already be seeing some of Perry's effect.
"It's going to be very interesting to see what the box office will be like for 'Death at a Funeral,' " he said, referring to the upcoming remake of a British comedy which stars Chris Rock, Zoe Saldana and Martin Lawrence. "Look at the way the movie has been marketed -- it's hard when you look at the trailer, to not feel a Tyler Perry effect."
Yet while it's undeniable that Perry is one of the industry's most consistent success stories within the last decade, Gilchrist said, what mark his brand will leave on the industry in the long run is still up for debate.
Film critics point to two chief issues, one being a lack of artistry, and the second being a lack of mainstream appeal, both of which which could potentially limit his breadth.
"He's certainly among the most successful filmmakers today in terms of his ability to crank out hits, but I don't think he's accomplished something artistically that's going to make him of a greater interest to his wider audience," Gilchrist said. "Because he's operating on this modest but really considerably successful scale, it's going to continue to give him success but not put him in the top tier of directors."
Rose, however, argues that Perry isn't as restricted as some may think, and has the potential to become an international success.
"The revenue potential for him internationally is enormous and that shouldn't be underestimated," Rose said. "If you look at world wide box office, think about the fact that his product hasn't been exploited overseas, and there's tremendous potential there. You have to imagine there will be more where that came from. This is someone who is constantly trying to test himself."