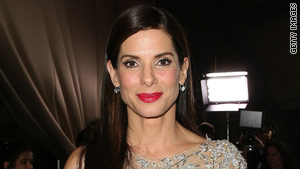 Sandra Bullock has been at the center of very public marital troubles, and her fans have shown enormous support.
STORY HIGHLIGHTS
Sandra Bullock's husband's alleged infidelity has caused an outpouring of support for her

Yet, this isn't the first time an Oscar-winning actress has had marital troubles

People care more about Bullock's personal life because they feel like they know her

People wanted to believe in her marriage, and they're disappointed that it didn't work

(CNN) -- When Sandra Bullock's husband, Jesse James, issued a public apology this week for his "poor judgment" after rumors of an affair began to surface, you could almost sense a collective gasp in break rooms, dorm rooms and cubicles around the country.
Facebook, Twitter and even CNN.com quickly became flooded with comments in support of Bullock, alternately incredulous that James could stray from a woman like her and crushed that an apparent fairy-tale romance -- a love that seemed so evident at every awards show this season -- might have a different ending than her fans would have hoped.
And yet, marriages begin and end in Hollywood with startling regularity. Why should the latest rumor of infidelity be any different?
Because it happened to Sandra Bullock.
The 45-year-old actress, explained Entertainment Weekly's Jennifer Armstrong, has "that thing that everyone talks about. Men want her, and women want to be like her."
Despite being in the industry for more than a decade, Bullock has remained mostly free of negative media attention.
"She's never done a sex tape, there's nothing scandalous, and she plays these sweet roles in movies -- there's nothing negative to say about her," said Cooper Lawrence, a relationship expert and author of "The Cult of Celebrity." "For a lot of women, she reminds us of ourselves."
This may not have always worked in her favor throughout her career, said casting director Joanna Colbert of Colbert/Mento casting, but her down-to-earth charm and aura of approachability made her feel accessible to fans.

Video: Bullock 'America's sweetheart'

Video: Bullock's domestic issues
"She hits the sweet spot of being relatable; she seems like your friend," Colbert said. "It's not so much projection of fantasy, like it is with Gwyneth [Paltrow] or someone who you wish you were like. People think, she's kind, she's considerate and she looks more like me than these other actresses."
But it wasn't just Bullock who had everyone so invested, Armstrong said. It was also the amazing love story.
"We've seen this play out publicly because of the awards show stage," she said. "Bullock's not the type of person who runs around talking about her personal life, and the way she was giving her [Oscar] speech. ... It's exactly what you hope would happen to you. She's of a certain age, and we all hope to be spending our 45th year with someone we love."
That kind of open-hearted honesty from an actress about who they love is rare, said People senior editor Kate Coyne.
"For her to stand at a podium not once, not twice, but three times to talk about her love for James, and then to have to face this sort of betrayal, it's shocking," she said. "She'd never been married. She waited for Mr. Right, and when she finally got married, people found a certain degree of possessiveness over her. They celebrated her marriage, and now they're supporting her."
It doesn't help that James doesn't seem to be the most likable character. When Brad Pitt and Jennifer Aniston ended their marriage, there was a similar amount of national disbelief, but the difference then was that Pitt himself had so many fans, Coyne said.
James, with his bad boy image -- complete with a porn-star ex-wife -- was a departure from whom Bullock normally dated, actors such as Tate Donovan and Matthew McConaughey.
But when it seemed that she'd been able to reform the bad boy -- which is the dream of many women, Lawrence says -- "we'd all hoped he changed," she said, because "we loved Sandra so much, we wanted her to be happy in real life."
As a result, when the truth seems that James didn't change at all, it's left many feeling like the rug has been pulled out from underneath them, said celebrity blogger Cara Harrington of HollywoodDame.com.
"People want to believe in lasting marriages, and they want to believe that a person can be your complete opposite and they can still complete you," Harrington said. "And then, when something like this happens, especially to Sandra, it makes you feel like, if she can't make it work, how can I?"