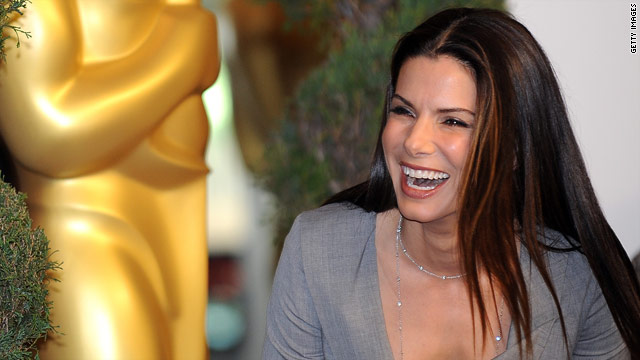 STORY HIGHLIGHTS
Academy Awards 2010 will happen on March 7, with Steve Martin and Alec Baldwin

Over the years, the Academy has proved itself to be fairly predictable

Best Actress always goes to America's Sweetheart the first time she plays serious role
(The Frisky) -- Only a few weeks left until the Oscars, people. The epic awards show will be going down on March 7, with Steve Martin and Alec Baldwin hosting.
Since pretty much the same people won both the Screen Actors Guild and Golden Globes acting awards, pundits are predicting that the Oscars will be like "Groundhog Day." But that's no fun -- we want upsets and surprises!
Sadly, over the years, the Academy has proved itself to be fairly predictable. Play a prostitute, win Best Actress. The older you are, the more likely you are to win Best Actor.
In honor of the upcoming awards, we thought we'd take a look at some Oscar theories -- both at how they've played out in the past and how they'll affect this year's race.
The first theory we'll dissect: that the Best Actress Oscar always goes to America's Sweetheart the first time she does a role with an iota of heft.
Let's take a look at some America's Sweethearts of yore who won Best Actress (or Best Supporting Actress):
Reese Witherspoon is a sweet-as-sweet-can-be Southern girl, who became a megastar for her comedic chops in "Election" and "Legally Blonde." So when she took a serious, biopic-y turn in the Johnny Cash epic, "Walk the Line," she walked away with the 2005 Oscar for Best Actress. Even as critics scoffed that she had remarkably less screen time in the flick than her fellow nominees.
The Frisky: Jessica Simpson on the only thing standing between her and Oscar
Before she was trying to make you go vegan, Gwyneth Paltrow waltzed into America's heart on the arm of Brad Pitt. After leading roles in "Emma" and "Sliding Doors," she was nominated for an Oscar for "Shakespeare in Love."
She won, and showed us with her dress choice for the evening that even adults want to be ballerinas.
Halle Berry is yet another example. In 2001, when she starred in "Monster's Ball" -- which was an exercise in "How many tragedies can we cram in to two hours?" -- she became the first black woman to win Best Actress.
The Frisky: Jake and Maggie Gyllenhaal, plus other siblings who've been nominated for Oscars
The first time Julia Roberts was nominated for an Oscar, for "Steel Magnolias," she didn't win. That's because she wasn't yet America's Sweetheart -- that didn't happen until "Pretty Woman."
Once established as a box office dynamo, thanks to her goofy laugh and just-normal-folks demeanor, the Academy finally voted for her in 2001, when she starred in "Erin Brockovich" as a single mom who takes on big corporations.
The Frisky: Do celebrity interns fetch coffee, too?
Do things really get any Sweetheartier than "Gidget"? Sally Field was known more for cutesy roles than heavy-hitting acting. Until she played the title character in "Norma Rae," about a factory worker who organizes a union to take on her employer.
Yeah, it was pretty much "Erin Brockovich 1979." She got the Oscar, and picked up another one five years later.
Goldie Hawn also started out on the boob tube, as a pitch-perfect dumb blonde in "Good Morning, World" followed by a stint on the "SNL" of her time, "Laugh-In." So when Goldie took a meaty starring roll as a suicidal fiancée in "Cactus Flower" in 1969, guess what she won?
The Frisky: Can a "How I Met Your Mother" cameo turn Jennifer Lopez's career around?
After starring in "It's a Wonderful Life" alongside America's Sweetdude, Jimmy Stewart, Donna Reed secured her place as America's Sweetheart. When she broke type and played a prostitute in "From Here to Eternity," she got the Oscar.
The Frisky: Sandra Bullock and others who don't think they have an Oscar chance
So who will benefit from the America's Sweetheart factor this year? Duh, Sandra Bullock. Let's just say she wasn't going to get nominated for her work in fare like "Speed" and Every Romantic Comedy Ever.
But with her serious turn in the "Blind Side," she has a real chance this year. Even if she thinks she doesn't.
TM & © 2010 TMV, Inc. | All Rights Reserved
FOLLOW THIS TOPIC