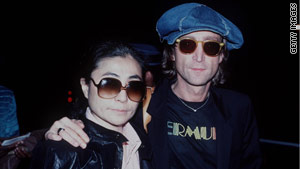 John Lennon with Yoko Ono in December 1980, shortly before he was shot and killed.
STORY HIGHLIGHTS
CNN's John Roberts is the anchor of "American Morning"

He recalls learning of Lennon's death as a music journalist in Canada

This week marks the 30th anniversary of Lennon's slaying
New York (CNN) -- Like so many other people of my generation, John Lennon and the Beatles made an indelible stamp on my life. The very first piece of vinyl I actually owned -- and hadn't borrowed from my older brother -- was the album "Help!"
To this day, I can remember at the age of 8 dropping the needle on the disc and hearing Lennon's voice roar through the 10-inch speaker on my record player.
The Beatles had a profound influence on me. They're the reason why I picked up a guitar, formed a band at age 11 and dreamed of a life as a rock star.
Fast-forward 16 years to December 8, 1980.
At the time, I was a music journalist for City TV in Toronto, Canada, hosting "The New Music" program. Just a couple of weeks earlier, we had reported on Lennon's comeback with the album "Double Fantasy," which marked his re-emergence after five years out of the music business as a self-proclaimed "househusband." We were actively working with his record company, trying to set up an interview for a future edition of the program.

Losing Lennon: Singer's legacy lives on

Losing Lennon: Killer's wife speaks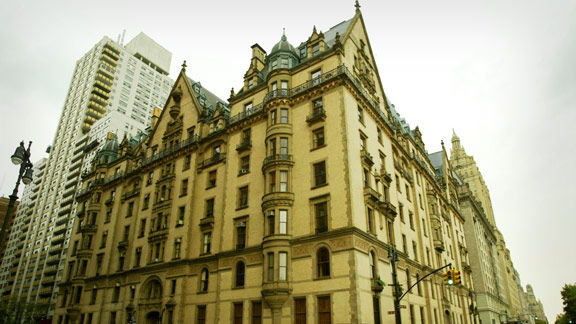 Losing Lennon: Revisiting crime scene
I was not far from my 24th birthday when the telephone rang on that December day around 11:30 p.m. It was my executive producer, John Martin.
"Lennon has been shot,"he said, "and we need to do a special."
Tell us where you were when Lennon died
It was one of those moments where time seems to slow down and the mind considers a hundred questions before finally settling on the truth:
How could he have been shot? Are the reports mistaken? Who would do such a thing? How could we lose such a pop culture icon? Didn't he just turn 40? Didn't he have a young son? Didn't he have security?
Will I wake up and this will all have been just a dream?
We gathered that night in our offices to sift through the material that we had: old Beatles footage, a Lennon documentary that my producer shot years earlier, and the famous D.A. Pennebaker film.
We collected the names of friends, collaborators and other acquaintances who could help us tell the Lennon story. A day or two later, City TV aired a live broadcast of a memorial to Lennon at Nathan Phillips Square in front of Toronto's City Hall.
Canada had a rich history with Lennon: It was there that he made his post-Beatles debut with the Plastic Ono Band in 1969 and staged his famous North American bed-in in Montreal.
Next Wednesday marks 30 years since Lennon's murder. His killer, Mark David Chapman, 55, is still serving his prison sentence of 20 years to life at the maximum-security Attica Correctional Facility in upstate New York.
He will stay there for at least another two years as he was just denied parole for the sixth time.
This weekend, CNN will examine the events leading up to Lennon's killing. Chapman and his wife, Gloria Abe, describe the murder in rare audio recordings that will debut on CNN's "Losing Lennon: Countdown To Murder." Chapman's childhood friends reveal an obsessive idolization of Lennon that later turned to hatred. His wife talks about how she knew that her husband planned to kill Lennon and explains why she didn't warn anyone.
It was one of those moments where time seems to slow down and the mind considers a hundred questions before finally settling on the truth.
--John Roberts, CNN anchor, on learning of John Lennon's death
The impact of Lennon's death still reverberates today. Several tribute concerts and ceremonies started in October, when Lennon would have turned 70, and have carried on since.
This year, Lennon's widow, Yoko Ono, revived the Plastic Ono Band with current rock stars including Lady Gaga. Ono told Rolling Stone she believes this rekindling of interest in Lennon "has to do with the social climate, with wanting some of John's energy, power and conviction."
Lennon's profound influence on music and musicians continues to this day. Marc Roberge, the lead singer of alt-rockers O.A.R., was not even 2 years old when Lennon was killed. Roberge penned the recent song "Dakota" after stopping by Lennon's old apartment building with his wife.
He was so taken with the images that came to mind as he looked into the entranceway where Lennon was shot that he walked across Central Park West, sat down on a park bench and penned these lyrics:
Outside the archway lies a thief, awaiting Double Fantasy
He's something evil underneath
Outside Dakota died the symphony
"I watched and I tried to imagine this going down," Roberge told me. "And then I tried to imagine what if it never happened, and that's really the question of the song: 'If you just kept walking on your way.' I mean, would the world be different? And I think the world would be better."
Like Roberge, I've often wondered what would have happened had Lennon not been murdered. Would the world have been a better place? There's certainly every possibility that his commitment to peace would have added something substantive to the global conversation.
At the very least, we would have had years more of great music and performance from a man who was truly an artistic genius.
Watch American Morning weekdays 6am to 9am ET. For the latest from American Morning click here.
FOLLOW THIS TOPIC