Michael Jackson's dad files wrongful death suit against son's doctor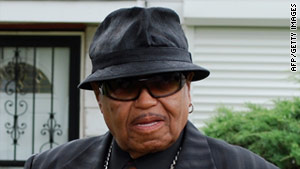 Joe Jackson sued Dr. Conrad Murray, his medical clinics and the pharmacy that sold the drug that killed Michael Jackson.
STORY HIGHLIGHTS
Pharmacy that sold drugs that killed Jackson also is named in lawsuit
Earlier suit filed in federal court was thrown out
Dr. Conrad Murray faces criminal charges in Jackson's death
(CNN) -- An attorney for the father of the late pop star Michael Jackson filed a wrongful death suit Tuesday against Jackson's doctor and his medical clinics, as well as the pharmacy that sold the doctor the drug that killed Jackson.
Attorney Brian Oxman filed the suit in the California Superior Court in Los Angeles County on behalf of Joe Jackson. A similar lawsuit filed against Dr. Conrad Murray in federal court -- which did not include the pharmacy -- was thrown out of court earlier this month.
The suit also alleges negligent hiring, training and supervision and negligence against the clinics and negligence against the pharmacy and Murray. It asks for unspecified damages and court costs.
The suit names Jackson's mother, Katherine Jackson, and his three children as "nominal plaintiff parties."
Murray is charged with involuntary manslaughter in Jackson's June 25, 2009, death, which the Los Angeles County coroner ruled was from an overdose of propofol, a powerful anesthetic used to put surgical patients to sleep.

Dr. Conrad Murray a 'fall guy'?
Murray, hired as Jackson's personal doctor while the singer rehearsed for his comeback concerts, admitted giving him propofol as a sleep aid. But Murray's lawyer said the amount was much smaller than what was found in Jackson's body during the autopsy.
In October, a California appeals court rejected Joe Jackson's challenge of the two men named by the late pop star to run his estate. The court ruled that since Joe Jackson was not named as a beneficiary in his son's will, he has no legal standing to object to John Branca and John McClain as executors.
Jackson accused Branca and McClain of misconduct, including fabricating the will in which Jackson named them as his executors.
Michael Jackson's will places his entire estate in a trust that benefits only his mother, Katherine Jackson, his three children and unnamed charities. Katherine Jackson dropped her probate challenge of the executors last November, just a day after Joe Jackson, her husband of 61 years, filed his challenge.
Katherine Jackson has filed a lawsuit accusing international concert promotion and production company AEG Live of causing her son's death by pushing him to rehearse for his comeback concerts despite poor health. Her suit claimed that the concert production company controlled Jackson's health because it hired and directed Murray.
CNN's Alan Duke contributed to this report.
FOLLOW THIS TOPIC