STORY HIGHLIGHTS
Gloria Allred says her practice includes women harmed by celebrity men
She originally was a schoolteacher, and came to Los Angeles from Philadelphia
Allred represents women in the Tiger Woods scandal
She won a $5 million verdict for a pregnant actress who was fired
Los Angeles, California (CNN) -- Her clients include mistresses, starlets and allegedly wronged women from all walks of life. So, when Gloria Allred calls a news conference, media types know they're about to hear some dish.
So it was on Wednesday, when Allred and her latest client tossed a big, juicy curveball into the tight California governor's race.
Nicandra Diaz Santillan blotted tears from her eyes as Allred announced she'd be filing a claim against her client's former employer, Republican candidate Meg Whitman, accusing her of emotional abuse and financial exploitation. It was classic Allred, and continued into the next day, with each side holding dueling news conferences and waving conflicting documents.
Allred contends the former eBay CEO knew for nine years that her housekeeper was in the country illegally, and then fired her for political motives. Whitman acknowledged she employed Diaz, but said the housekeeper deceived her about her immigration status. Whitman said she is willing to take a lie detector test.
To say Allred, 69, is well-known is an understatement. On her website, she calls herself "the most famous woman attorney practicing law in the nation today." That might be marketing hyperbole, but she's so engrained in the popular culture that she was the subject of a recent "Saturday Night Live" skit.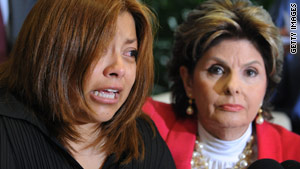 Nicandra Diaz Santillan meets the press with her lawyer, Gloria Allred, by her side.
These words carry real weight: "Look out, mister, I'm calling Gloria Allred."
But not all her clients are women. Allred also represented Tony Barretto, the bodyguard who emerged in 2007 as the secret witness with alleged inside dirt during Britney Spears' custody dispute.
Allred stuck by his side, whether he was on the "Today Show" or in the courtroom, Barretto recalled. "She was very attentive to everything I had to say," Barretto said. "Gloria had ideas and insight on things I never thought would come up and then she would talk to me about those things. She made me feel comfortable."
Follow CNN.com's Lawyers to the Stars series
Allred frequently dresses in all red. But she has also been known to wear green, "the color of money," as a Los Angeles Times reporter once observed. She favors knits from St. John.
Some critics consider Allred a publicity hound. Snickers fill newsrooms and the law offices of rivals when she trots clients such as Rachel Uchitel and Joslyn James, reputed mistresses of Tiger Woods, in front of the cameras. Allred doesn't care what her critics say.
She also represents the female police officer who responded to a domestic violence call in Aspen, Colorado involving Charlie Sheen. She's the attorney for Jodie Fisher, the events contractor and former porn actress whose allegations of sexual harassment led to a shareholder lawsuit and the abrupt resignation of Hewlett-Packard CEO Mark Hurd.
Allred has said she is not exploiting her clients, and if they have a story to tell it's better to get their version out than let the rumors fly. Unlike a lot of other lawyers, Allred is not afraid to go public, even if powerful people don't like what her clients have to say.
"A lot of my clients have not begun as celebrities," Allred recently told CNN. "They were typical people who were essentially women in crisis, sometimes because of the celebrity man. Because they were involved with a man who was a celebrity, they have become, in a sense, celebrity victims."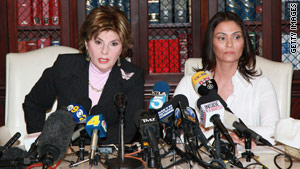 Allred represents Charlotte Lewis, who contends director Roman Polanski took sexual advantage of her.
Another recent Allred target was the exiled movie director Roman Polanski, who has admitted having sex with a 13-year-old girl in 1977. Authorities in Los Angeles are trying to extradite Polanski from Switzerland. He pleaded guilty to having sex with a minor, but left the United States before he could be sentenced. He's been gone more than 30 years.
In May, seated beside Allred at a news conference actress Charlotte Lewis alleged that five years after he left the U.S., Polanski had his way with her, too, in France, when she was of tender years.
"If Charlotte's allegations are accepted as true, then Mr. Polanski was able to victimize another child while he was a fugitive from justice," Allred said.
She said she never heard back from any of Polanski's representatives. Attorney Chad Hummel, who represented Polanski at the time, had no comment Thursday.
Allred said she doesn't remember if she paid attention to the Polanski case when it first happened. She had just graduated from Loyola Law School and was setting up her firm with fellow Loyola law grads Michael Maroko and Nathan Goldberg. The firm is still going strong, focusing on civil rights, employment discrimination and sexual harassment. The firm doesn't handle criminal cases, but does represent crime victims.
Allred's life story, as laid out in the first chapter of her book, "Fight Back and Win," is reminiscent of that old Virginia Slims advertising slogan, "You've come a long way, baby."
Gloria Rachel Bloom grew up in a working-class family in Southwest Philadelphia, Pennsylvania. Neither parent got past the eighth grade. Her father was a Fuller Brush salesman. Her mother, who was born in Britain, stayed at home and raised her only child. She emphasized education.
Allred got into the prestigious Philadelphia High School for Girls and won a partial scholarship to the University of Pennsylvania. She met a boy at a mixer, married him during her sophomore year and gave birth to her daughter, Lisa, during her junior year. By her senior year, the couple was divorcing and she was a single mother.
Despite her honors degree in English, Allred went to work as a buyer's assistant at Gimbels department store. She wondered why a man with the same job made $15 a week more than she did.
A lot of my clients have not begun as celebrities.
--Gloria Allred, feminist attorney
She got a teaching job at Benjamin Franklin High School in Philadelphia, where most of her students were poor and black. A few years later, in 1966, recruiters from the Los Angeles school district came calling and Allred packed up her daughter and moved to L.A.
That year, she says, while on vacation in Acapulco, Mexico, she was raped at gunpoint by a Mexican doctor, became pregnant and had an illegal abortion that nearly killed her. She did not report the rape, she said, because she didn't think anyone would believe her.
She taught in the Watts neighborhood of L.A. and became involved in labor issues, and decided a law degree would help with her activism. After law school, she served as president of the Los Angeles chapter of the National Organization for Women. She pressed then-Gov. Jerry Brown to appoint more women as judges, and she began to take on women's cases.
One of Allred's most famous cases involved a lawsuit on behalf of an actress on the original "Melrose Place," who claimed she was wrongfully fired and discriminated against when she became pregnant. Lawyers for Aaron Spelling's production company said Hunter Tylo broke her contract by making a "material change" to her appearance.
Jurors viewed charts that producers kept of Tylo's projected weight gain showing she would weigh 144 pounds when it was time to shoot a key bikini scene. Jurors also saw scenes in which star Heather Locklear's baby bump was hidden behind furniture and leopard print sheets. Tylo revealed from the witness stand that she was eight months pregnant. She did not look it, and jurors awarded her nearly $5 million in damages.
Allred's targets: "I go after these guys who have hurt women."
Personal: Allred's daughter, Lisa Bloom, is a former Court TV anchor and CNN legal analyst who has opened her own law firm. Her granddaughter is considering law school.
Clients: Famous men who have faced the wrath of Allred and her clients include Roman Polanski, Eddie Murphy, Rob Lowe, O.J. Simpson, Scott Peterson and the late Aaron Spelling.
FOLLOW THIS TOPIC