STORY HIGHLIGHTS
"Lonely Avenue" from Nonesuch Records came out Tuesday
Ben Folds came up with the music, and he sings and plays piano on the album
Novelist Nick Hornby wrote the lyrics
(CNN) -- By his own admission, Ben Folds is best known for writing the radio hit "Brick," covering the Dr. Dre song "Bitches Ain't S**t" and singing to Chatroulette users as part of his own concerts.
But there's a lot more to love about Folds' music than just that. He's responsible for classic albums like "Rockin' the Suburbs" that helped establish a devoted fan base, a base that sees him as a musical genius rather than a one- (or three-) hit wonder.
Now, the former frontman of Ben Folds Five has teamed up with English novelist Nick Hornby, of "High Fidelity" and "About a Boy" fame, to create a new collaborative work. The album, "Lonely Avenue," came out Tuesday from Nonesuch Records. Folds created the music for Hornby's words and provides the singing and piano on the album, with string arrangements by Paul Buckmaster.
"The big thing for me is to be making records that all feel like, in some way, that it's my first record, and that determines the success of it, I think," Folds said. "This record feels like a first record because the process was different, everything was different, and I didn't have an iron grip over what it would be."
There's no one concept or story line unifying the songs on the album; the collaboration itself is what unifies it, Folds said.
One of the most masterful and catchy songs on the album is "Levi Johnston's Blues," about the moment that Bristol Palin's then-boyfriend found out that he would father the child of vice presidential candidate Sarah Palin's daughter. Hornby took the chorus from Johnston's own MySpace page post around that time: "I'm a f****n' redneck, I live to hang out with the boys, play some hockey, do some fishing, kill some moose ..."
At the same time, the song manages to double as a poignant look at a dramatic change in a teenager's life.
"There was no sort of political attachment to it, it was more about a kid who had to suddenly, in the public eye, grow up, and that means learning how to put a tie on and everything," Folds said.
So far, Folds and Hornby haven't heard from the Johnstons or the Palins, but "we should probably send them a note so he doesn't misunderstand the song," Folds said.
Another highlight of the album is "Picture Window," about a mother who attends to her child in a hospital with the "useless luck" of a spectacular view of New Year's Eve fireworks. Folds' talent at the piano shines through here, with the legato of strings adding to the weight of bittersweetness.
Other highlights include an upbeat tribute to the contemporary poet Saskia Hamilton, whose name and profession provide all sorts of opportunities for wordplay. There's also "Password," on which Folds decided to have particular phrases spelled out in the backup vocals, as if the passwords are being typed out. The album's name "Lonely Avenue" is a song by Doc Pomus, a blues singer who gets an eponymous song on the Folds-Hornby album.
To create the 11 tracks, Folds and Hornby communicated by e-mail, so Folds could work on the music from wherever he was at the time. When he opened up a document with lyrics from Hornby, he would think about them and hear chords in his head. At home, he would grab his short-scale bass guitar to confirm the chord movements and figure out what key he was thinking in. If he was somewhere else, he would try to keep it in his head -- and sometimes recorded himself singing with his computer's webcam.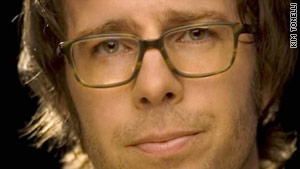 "When I write a lyric, it's usually something that I feel like I could speak," says Ben Folds.
"Most of it would come tapping on the desk and looking at the screen," he said.
But not every lyric of Hornby's got musical treatment from Folds; sometimes, nothing came to mind when he looked at those e-mail attachments. And Folds won't force music that happens to work with the syllables.
"It has to be sort of a -- excuse the word -- spiritual thing; it has to be something that's living in the lyrics anyway, musically," he said.
Hornby's writing style is "anti-rock," Folds said; more literary than many artists'. Just scanning the lyrics in "Lonely Avenue" can be like reading a short story. In his own songs, Folds' approach is very different: He always begins with the music first, and then tries to feel out the words. Still, Folds and Hornby share a certain storyteller quality in their respective lyrical styles.
"When I write a lyric, it's usually something that I feel like I could speak, or it could be in the newspaper," Folds said. "I always used to be drawn by things that sounded like they could be in a newspaper or an instructional manual, or starting in the middle of a scene rather than setting it up from the first note."
With the downfall of the physical recording and the rise of the MP3, Folds sees the music industry in a state of disarray, and he's enjoying the chaos. He loves the freedom to create things and offer them up online without having to go through a record company expert or radio consultant. Those who follow Folds on Twitter know he's an active user of social media, with frequent posts about his music and his family.
And that freedom lets him put out internet hits like the cover of "Bitches Ain't S**t", which happened in 2005 when he went into the studio to record a cover of Public Enemy's "Can't Do Nuttin' For Ya Man." He found that song to be too "rhymy," and just as he was about to pack up, he remembered Dr. Dre's album "The Chronic" and found "Bitches" by flipping through the lyrics.
There was no way to immediately collect money on it (it appeared on the album "Supersunnyspeedgraphic" later), or on the Chatroulette videos, but that doesn't bother Folds. "It generates fun, interest, keeps things going, and I'm doing just fine," he said.
About his own career trajectory, which first gained widespread attention in 1995 with Ben Folds Five, Folds hears the "unfounded confidence" in his early work and thinks he's probably more "careful" now that he's older.
"I hear lines, things I wrote, and I want to cringe, but at the same time, I listen to it and I go, 'you know? the kid was right! That's kind of cool.' But I wouldn't do that now," he said.
FOLLOW THIS TOPIC