Wyclef Jean's presidential candidacy in limbo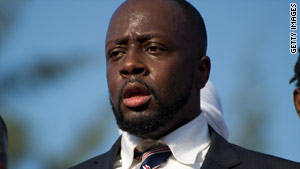 Questions about residency requirements may derail Wyclef Jean's presidential aspirations in Haiti.
STORY HIGHLIGHTS
NEW: Lawyer: Jean is eligible because he pays taxes in Haiti
NEW: Jean says he has received death threats
Decision on who can run for president was to be released Tuesday night
(CNN) -- A decision on who is eligible to run for president in Haiti has been postponed until Friday, leaving hip-hop artist Wyclef Jean and the other presidential hopefuls in limbo, said Berto Dorce, Jean's lawyer.
Haiti's election commission was scheduled to make a decision Tuesday night.
Jean's eligibility was under question after claims that he has not lived in Haiti for five consecutive years before the election, a mandate in the nation's Constitution.
Jean's lawyer said his client meets that criteria.
"His candidacy has been contested and we went to court and proved that he is legally entitled to run for president," Dorce said. "Jean's position is pretty strong. He should be on the list."
Dorce said Jean has been paying taxes in Haiti, which makes him eligible.
"Wyclef has been a shareholder of the local TV corporation called Telemax, and was paying taxes at least for five years; this was sufficient for the Justice of the Peace to issue a certificate of residence for Mr. Wyclef and confirm his residency," Dorce said.

Video: Wyclef wants to be president
Jean announced August 5 on "Larry King Live" amid fanfare that he had filled out the paperwork to run for president.
But since then, Jean's announcement has met with some criticism.
Pras, who once performed alongside Jean and Lauryn Hill in the '90s group The Fugees, said he supported Jean's opponent.
Actor Sean Penn, who has lived in Port-au-Prince for months helping displaced Haitians, also questioned whether the Haitian-born musician could make moves to lead the devastated nation.
And now, Jean said he has received multiple death threats.
"We have been getting threats since last night telling me if I know what's good for me, I would get out [of] the country," Jean wrote in an e-mail to CNN late Tuesday.
Jean's lawyer also talked about the alleged threats.
"Wyclef has been repeatedly getting anonymous threats from people who are saying that he should think twice before running for the president. We cannot tell who are sending these threats, but the closer the announcement, the more threats Jean is getting," Dorce said.
CNN's Soledad O'Brien contributed to this report.
FOLLOW THIS TOPIC