STORY HIGHLIGHTS
Radio fundraisers, star-studded benefits taking place for Nashville flood victims

Many artists were storing music gear at Soundcheck near swollen Cumberland River

Country Music Hall of Fame closes briefly; Grand Ole Opry House under 6 feet of water

Nashville, Tennessee (CNN) -- As Nashville bails out from catastrophic flooding, the country music community will be leading the charge to rebuild Music City.
Radio fundraisers are taking place, and star-studded benefits are in the works after 19 people died in weekend storms in Tennessee.
Among the events is a telethon Thursday with Vince Gill for NBC affiliate WSMV-TV to benefit the Red Cross, Salvation Army and Second Harvest Food Bank.
"Nashville is a community of great spirit," country superstar Keith Urban told CNN's Rick Sanchez via Skype from the Nashville-area home he shares with his wife, Nicole Kidman, and their daughter.
"I went through this in Australia in 1974. I was very young, but we had this kind of 100-year flood in my city, and it's just unfathomable," Urban said. "It's possible that as much as I haven't lost what everybody else has, I've probably lost all of my road equipment, and all my guitars, and amp and everything."
Like many artists, Urban had been storing his gear at Soundcheck, a rehearsal facility on the edge of the swollen Cumberland River.
JoDee Messina was on the road promoting her new album when the storm hit. She returned to find a swimming pool inside her home in Franklin, a Nashville suburb that's been hard hit.
"There is as much water in [the] house as in the pool," she said via Twitter. "Thank God for our neighbors letting us borrow pump. Thx to franklin police 4 getting us home."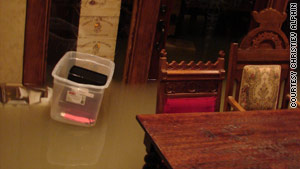 "Big" Kenny Alphin's dining room and wine cellar flooded.
"Big" Kenny Alphin probably won't be hosting any dinner parties anytime soon. The tall, liberal half of the duo Big & Rich hurt his back siphoning off 4 feet of water from his dining room and wine cellar.
His partner, John Rich, is breathing a sigh of relief after a boat rescued his grandmother, "Granny Rich," from her Ashland City home.
In the meantime, Dierks Bentley is back on the road after canceling two concert dates due to impassable roads. A photo he posted on Twitter showed what he was doing during his days off -- bailing out his flooded basement with a bucket.
Flooding also has affected two Nashville cultural institutions. "The Grand Ole Opry" has been forced to move this week's shows to other venues. Its longtime home, the Grand Ole Opry House, is under 6 feet of water. The last time performances had to be relocated were in 1975 -- also due to flooding from the Cumberland River.
Nashville is a community of great spirit.
--Country star Keith Urban

Video: Keith Urban's high-water woes
The Country Music Hall of Fame is closed for the next few days as well. The downtown museum sustained no damage to its collections -- which are housed above the first floor -- but water seeped into its basement-level theater up to the third row.
Even so, the Hall of Fame is ready to welcome guests at any time. "As soon as the power grid is back on, we're open for business," spokeswoman Liz Thiels said.
The Country Music Association also is proceeding with its annual CMA Music Festival on June 10-13. The three-day event brings in more than $22 million to the Nashville economy each year and supports music education in public schools.
"We cannot think of a better way to help our local economy at this time of great need than to continue the 39-year tradition of the CMA Music Festival," the organization said Tuesday.
Headliners for this year's extravaganza include Carrie Underwood, Tim McGraw, Reba McEntire and Urban -- although the latter may have his hands full in the immediate future.
According to Thiels, Urban has volunteered to come down to the Country Music Hall of Fame with a broom to help with the cleanup.