Alleged Tiger Woods mistress arrested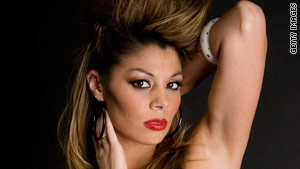 Jaimee Grubbs claims she had a three-year relationship with golfer Tiger Woods.
STORY HIGHLIGHTS
Jaimee Grubbs arrested on three outstanding warrants for driving on a suspended license

Grubbs says she had three-year affair with golfer Tiger Woods

Grubbs claims voicemail purportedly left by Woods was recorded before his car crash

Los Angeles, California (CNN) -- The cocktail waitress whose voicemail from Tiger Woods helped unravel the golfer's sex scandal last fall was arrested in West Hollywood, California, Wednesday night on several driving-related warrants.
Jaimee Grubbs, 24, spent several hours in the Los Angeles County Sheriff's West Hollywood jail until she was released early Thursday after she posted bail of $30,309, according the sheriff's department.
She was pulled over in West Hollywood by deputies who traced the tag on her 2004 Mustang and realized she had three outstanding warrants, all for previous driving-with-a-suspended-license arrests, the statement said.
When she was arrested on February 4 in Beverly Hills, she spent a day in jail before posting a $250 bond, jail records said.
In early December -- shortly after the Thanksgiving car crash that sent Woods to a hospital -- Grubbs, who claimed she had a three-year relationship with Woods, released a voice message that she said was from the golfer.
She later told CNN affiliate KTLA she gave the recording to US Magazine because she was angry and hurt when she learned she was not the golfer's only girlfriend.
At least a dozen women made public claims of being Woods' mistress.
Soon after Grubbs made her message public, Woods admitted "infidelity" and announced that he was taking "an indefinite break" from professional golf.
He returned to competition last week for the Masters tournament in Augusta, Georgia.
CNN's Sonya Hamasaki contributed to this report.