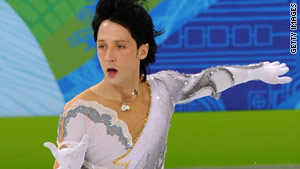 GLAAD officials claim Johnny Weir was left off the Stars on Ice tour because he was deemed "not family friendly."
STORY HIGHLIGHTS
Olympic skater Johnny Weir left off Stars on Ice Tour

GLAAD officials says Weir was excluded because he is not "family friendly"

Tour officials say GLAAD had inaccurate info; claims show didn't have room for him

Los Angeles, California (CNN) -- American figure skater Johnny Weir says he doesn't understand why the only ice skating tour in the United States doesn't want him.
"I'm not going to get on the ice and strip down naked and roll around," said Wier, a three-time U.S. ice skating champion.
Weir keeps his sexuality private, but his flamboyant costumes and routines at the Winter Olympics in February drew comments about his lack of masculinity.
The Gay and Lesbian Alliance Against Discrimination (GLAAD) launched a protest against the Stars on Ice tour, claiming Weir's rejection was because he was deemed "not family friendly."
The tour and its biggest sponsor, Smucker's, said GLAAD had "inaccurate information" and its show just didn't have room for Weir.
Weir said Stars on Ice has rejected approaches from his agent for several years.
"The reaction I got was that I wasn't family friendly enough and that came, allegedly, from the sponsors," Wier told CNN.
Not only is he family friendly, but he has "an amazing family," he said.
"I know I'm a bit outrageous at times and I say what's on my mind, but I don't understand how that isn't family friendly in any way," he said.
GLAAD, in a posting in its Web site, said "Weir's performance and costume style is sometimes considered flashier than those of other skaters, leading to questions about his perceived sexual orientation."
His rejection was "a clear jab at his perceived sexual orientation," GLAAD said.
The tour said that was "simply not accurate."
"Please be assured that the 'gender identity and sexual orientation' of cast members has never been a consideration in the selection of tour performers," the tour statement said.
"While Stars on Ice wishes it could accommodate many more talented skaters as part of our cast, the fact is we cannot sign every skater," it said, noting that current U.S. champion Jeremy Abbott is skating with the tour.
Weir said he thinks he could help Stars on Ice fill their seats at a time when their ticket sales are lagging.
"I have a huge fan base around America. I have a huge fan base around the world," he said. "I could help with that if they would invite me to the show."

Video: Weir 'too gay' for skating?
Weir's plan is to stage his own tour, which he promised would be a "crazy, over-the-top fantasy show."
"It could be really incredible and something for everyone really," he said. "I mean, I'm not opposed to anything crazy -- Flying Elephants, Madison Square Garden, lots of glitz and glamour. That's what my show would look like."
Fans in the Chicago area will see Wier on April 1, when he skates with Rachael Flatt and 100 local young skaters in "Ice Dreams" in Bensenville, Illinois.
CNN's Brittany Kaplan contributed to this report.