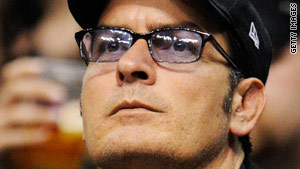 Charlie Sheen will return to tape his CBS sitcom, "Two and a Half Men," on March 19, according to his publicist.
STORY HIGHLIGHTS
Charlie Sheen to return to "Two and a Half Men" on March 19

Sheen recently checked into rehab facility as "preventative measure," publicist says

Sheen faces charges stemming from Christmas Day incident involving wife, Brooke Mueller

Los Angeles, California (CNN) -- Charlie Sheen is set to return to the set of his sitcom "Two and a Half Men," his publicist said.
Production of the the CBS hit show was suspended two weeks ago after Sheen checked into a rehab clinic as what Stan Rosenfield then called "a preventive measure."
"He returns to the show for the March 19 taping," Rosenfield said Tuesday.
Rosenfield never revealed what issue Sheen needed to address with rehabilitation or the kind of facility he entered.
Sheen's wife, Brooke Mueller, also entered rehab in February "to get her health in order," said her lawyer, Yale Galanter.
Mueller pulled out of The Canyon, a Malibu, California, rehab center, after a "major breach of her privacy," Galanter said. She immediately checked into "a private, secure facility," he said.
Sheen, 44, and Mueller, 32, were involved in an alleged domestic dispute in Aspen, Colorado, on Christmas Day that resulted in felony charges against Sheen.
Aspen police charged Sheen with felony second-degree assault, felony menacing and a misdemeanor charge of criminal mischief. He was booked under his birth name, Carlos Irwin Estevez.
Sheen and Mueller married in 2008. Their twin sons, Max and Bob, will have their first birthday later in March.
Sheen's history of trouble began in 1990 when he was dating actress Kelly Preston. Reports surfaced then that Preston had been shot in the arm.
In 2001 Sheen told Playboy magazine that it was a "complete accident. I wasn't even in the room. She picked up a pair of my pants. ... A little revolver fell out of my back pocket, hit the bathroom floor and went off. It shot a hole through the toilet and she got hit in the leg with shrapnel."
The couple split soon after the incident and Preston married actor John Travolta in 1991.
In 1994, Sheen was the only celebrity client whose name was publicly released during the trial of "Hollywood Madam" Heidi Fleiss.
In 1996, adult film actress Brittany Ashland accused Sheen of throwing her on the floor and splitting her lip. Sheen pleaded no contest to battery charges and was fined $2,800.
Sheen entered rehab in 1998 after an alleged drug overdose.
During the course of his divorce from model-turned-actress Denise Richards in 2006, Richards filed a restraining order against Sheen, saying he tried to kill her.
Sheen released a statement at the time saying: "Obviously, what has taken place is vile, is unconscionable, is without merit, is a transparent and immature smear campaign. She's claiming certain things. It's baseless."
CNN's Brittany Kaplan contributed to this report.