STORY HIGHLIGHTS
Season nine of "American Idol" has had a rough start
Lack of break out performances and contradictory judging has left some viewers cold
Show is dealing with addition of new judge and pending loss of another
Writer says there are contestants with potential but no clear stars
Join CNN throughout the "American Idol" season as Lisa Respers France blogs live during the performance and result shows.
(CNN) -- Over the years, "American Idol" has been a lot of things: a launching pad for undiscovered talent, fodder for national conversation and even a blending of politics and pop culture (remember the "red state-blue state" debate last season during the Kris Allen-Adam Lambert showdown?).
But never, ever has it been boring. Until now.
"Normally, they don't have this many terrible people," said Dave Della Terza, creator of the Web site Vote for the Worst. "It's not interesting when they are all bad or they are all good. You need a good mix, and they don't seem to have that this season."
Sure, some seasons start out slowly but then pick up steam. A few start out like gangbusters and then seem to fizzle toward the end.
But season nine just appears to be a disjointed hodgepodge of confusing, inconsistent judging, mediocre talent and presumed front-runners who are breaking down in front of us.
Which asks the question, WTF: why the failures? Has the No. 1 show on television, the program its rivals call the "Death Star," jumped the shark?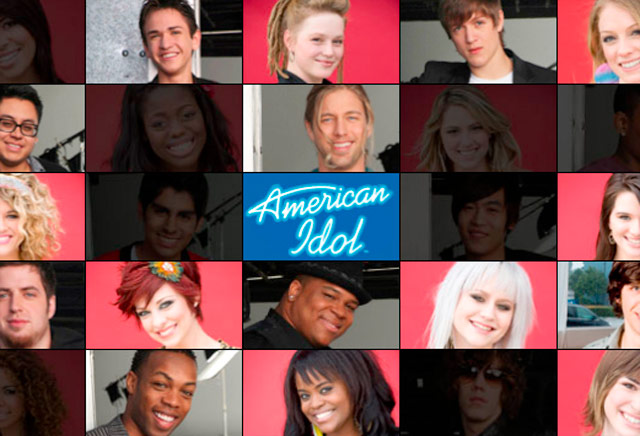 Interactive: 'American Idol' top 24
Many of the commentors on CNN's "Idol" blog apparently think so.
" 'Idol' this year is so off my TV list," Gregory Gomes wrote. "The contestants are way below standards and at the most are just good party singers."
Danny from Texas said, "I am completely bored with the show this year."
Of course, there are some bright lights this season.
Crystal Bowersox has been viewed as a breath of fresh air among the female contestants, as has Siobhan Magnus. With the men, "Big Mike" Lynche and Lee Dewyze have garnered many positive reviews.
Still, others who were perceived to be major contenders -- such as Andrew Garcia and Didi Benami -- haven't lived up to the promise they showed during the Hollywood rounds. And the men really seem to be having a rough time of it.
"Over the first two weeks of semifinal competition, we've seen the weight of the judges' conflicting instructions, the burden of early expectations, and/or the load of barely masked insecurities prevent each of the 10 remaining men from fully embracing whatever potential they might have to follow in the illustrious footsteps of Ruben Studdard, Bo Bice, Chris Daughtry, Elliott Yamin, David Archuleta, David Cook, and the other men who've transformed themselves from wide-eyed wannabes into bona fide stars under the critical eyes of 30 million TV viewers," Entertainment Weekly scribe Michael Slezak wrote.
So who are we to blame? To trace the mess, we have to go even beyond the year B.E., or "Before Ellen."
"Two years ago, before Kara [DioGuardi] came, ['Idol'] felt like a juggernaut, like it was indestructible, and it was going to be the number one show until the end of time, and everyone had to watch it because it was that powerful," said Glenn Gamboa, a pop music writer for Newsday who covers the show. "Once they started tinkering, people started realizing that 'Oh, it's not that powerful, and maybe I don't have to watch, or I don't have to get all that involved.' "
When producers made the decision to bring DioGuardi on board as a judge, fans were leery. Was she there to replace the beloved Paula Abdul?
Abdul was arguably the heart of "Idol," and her goofy sweetness proved a perfect foil for Simon Cowell's acerbic wit and brutal critiques. Forget the words to your song or crack that final note? No problem; Paula was sure to tell you how cute your outfit looked or how much the viewers loved you.
When Simon threw lemons at contestants, it was Paula who always made the lemonade.
Her departure, followed by the addition of judge Ellen DeGeneres and the announcement that Cowell is leaving at the end of this season, appears to have been a one-two-three wallop that has launched "Idol" into uncharted territory.
"I am starting to wonder if Paula was really brilliant and the one picking all of the talent," Della Terza said, adding that he is finding it difficult to narrow the field this season for his Web site. "Even Simon seems like he is a little checked out this year, and he even had his head under the table during one of the performances."
Twice, the Olympics beat "Idol" in the ratings this season, and the numbers for "Idol's" first results show were its lowest since 2004.
Longtime fan Dianne Emley, who picked the Olympics over "Idol," said she's pretty much lost the focus she had for the show.
"It started for me when they got rid of Paula," said Emley, the author of a successful series of crime novels. "I like Ellen, I really do, but I still don't understand why they brought her on the show."
Newsday's Gamboa agrees. So far, he said, "Ellen has been bad for the show, and the show has been bad for Ellen." And Cowell being halfway out the door hasn't helped the atmosphere.
Still, Gamboa holds out hope that as the season progresses, "Idol" will evolve.
"There's a lot of potential, but there aren't any stars yet," Gamboa said. "In a way, it could make this season more interesting, because there isn't any one that you can definitely say, 'Oh, they are going to win,' or 'They are definitely going to make it through.' It's more of an even playing field, but that doesn't mean it is any more fun to watch at this point."