Life of a real life bomb disposal expert inside the "Hurt Locker"
STORY HIGHLIGHTS
"The Hurt Locker" is based on a bomb dispoal squad in Iraq
The film is nominated for nine Academy Awards
Chris Hunter was a real life special forces expert who worked in Iraq
The film was shot 5km from the Iraqi border
(CNN) -- Chris Hunter reputedly had the most dangerous job in the world in the most treacherous place on earth -- he was a special forces bomb disposal expert in Iraq.
Several colleagues lost their lives, but he managed to luckily scrape through.
He was so good at his job he ended up being specifically targeted by insurgents -- he has video of a car bomb set to kill him, but the plan backfired when he chose to send in a robot instead.
Hunter told CNN's Max Foster that he entered the profession because he was inspired by a demonstration at his army training college -- but also because it is in his blood.
His father did the same thing during World War II.
Hunter's past life as a bomb disposal expert echoes close similarities to the hit movie, "The Hurt Locker" which is up for nine Academy Awards.
One of this year's surprise hits, "The Hurt Locker" is based on a explosive disposals unit at the height of the Iraq war.
The phrase hurt locker has special meaning -- the army term means "place of ultimate pain".
The movie was inspired by writer Mark Boal's own experience in Iraq and provides a rare glimpse into one of the riskiest combat positions in the army.
"If they make one wrong move, it's gonna be the last move they ever make."
--Mark Boal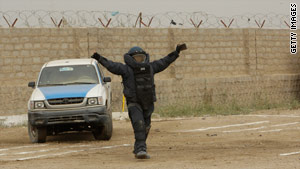 "The bomb squad is inherently dramatic -- these stories of men who have to walk down range and put their hands on a lethal device," Boal told CNN.
"If they make one wrong move, it's gonna be the last move they ever make."
Using Boal's first hand testimony to recreate conditions, director Kathryn Bigelow decided to shoot just 5 kilometers from the Iraqi border -- with the cast wearing authentic 80 pound bomb suits in intense heat.
"There were some moments and I'm always ashamed to say it, but I feel like I'm as close to having ever been in war," the film's star Jeremy Renner said.
The movie is captured using a roving documentary style of filmmaking designed to help build maximum tension for the audience -- a tension that Renner said played out behind the scenes as well.
"I had a difficult time shooting the suicide vest because it really affected me -- it broke my heart," Renner said.
"I ran away from the guy and the explosion and started crying, I don't know why."
Hunter is now retired from the army, but his expertise is in high demand by agencies and private companies looking to protect themselves.
He says there is undoubted pressure on people doing the job, but that they are chosen because they can handle it.
CNN's Max Foster and Katie Walmsley contributed to this report.