40 cuts of meat, poultry to offer nutritional information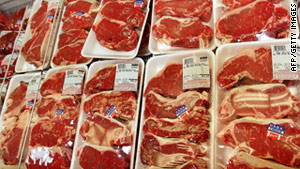 The most popular cuts of meat and poultry products will feature a nutritional label by 2012, the USDA said.
STORY HIGHLIGHTS
The new rule will take effect on January 1, 2012
It applies to whole, ground and chopped meats
Washington (CNN) -- Nutritional information will be featured on 40 of the most popular cuts of meat and poultry products by 2012, the U.S. Department of Agriculture said in a statement Wednesday.
The new rule, which is scheduled to go into effect January 1, 2012, will apply to whole cuts of meat and poultry such as boneless chicken breasts, beef brisket and tenderloin steak, along with packages of ground or chopped meat including hamburger and ground turkey, the USDA's Food Safety and Inspection Service said. The nutrition facts panels will either be available on the meat's labels or be available for consumers at stores.
"More and more, busy American families want nutrition information that they can quickly and easily understand," Agriculture Secretary Tom Vilsack said in the statement. "We need to do all we can to provide nutrition labels that will help consumers make informed decisions. The USDA and the Department of Health and Human Services work hard to provide the Dietary Guidelines for Americans every five years, and now consumers will have another tool to help them follow these guidelines."
The nutrition facts panels will include the number of calories and the grams of total and saturated fat in the product, the USDA said. "Additionally, any product that lists a lean percentage statement, such as '76% lean,' on its label, also will list its fat percentage, making it easier for consumers to understand the amounts of lean protein and fat in their purchase."