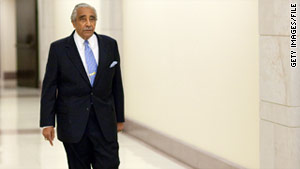 Rep. Charles Rangel was censured in early December for violating House rules.
STORY HIGHLIGHTS
Rangel says the trust will pay ongoing and possible future legal expenses
The veteran Democratic congressman was censured by the House for rules violations
A conservative legal group files a new complaint against Rangel
Washington (CNN) -- Saddled with legal fees and facing possible new allegations, Rep. Charles Rangel said Tuesday he has started raising funds for a trust to pay his legal expenses.
A statement from Rangel, D-New York, said the House Committee on Standards and Official Conduct authorized his fundraising for the Charles B. Rangel Legal Expense Trust.
Rangel said the fund would allow him to "retain counsel for ongoing activities related to the recently concluded ethics investigation and other ongoing matters."
On December 3, the House formally censured Rangel for violating House rules, including failing to pay taxes on a vacation home in the Dominican Republic and improperly using his office to raise money for an educational center bearing his name.
Rangel, who won re-election for a 21st straight term in November despite the ethics investigation, admitted breaking rules but denied that his actions were intended to enrich himself in any way.
Earlier this month, the Federal Election Commission acknowledged receiving a new complaint by the National Legal and Policy Center that alleged Rangel used campaign money to pay legal fees in violation of election laws. The group also initiated the original complaints against Rangel that led to his House censure.
"The repeated filings of allegations, no matter how unsubstantiated, by the (National Legal and Policy Center), a politically-motivated right wing group dedicated to eviscerating civil rights and labor union protections, have led me to this action," Rangel's statement said.
An e-mail sent to Rangel supporters by a private fundraiser said the trust being set up would allow Rangel to focus on his congressional work instead of worrying about how to pay for legal fees.
"Many supporters have encouraged this for a while as it is becoming clear that there are those who will continue to mine and instigate further allegations," said the e-mail, which provided the name and phone number of fundraiser Darren Rigger at the bottom.
The e-mail asked for personal or corporate checks of up to $5,000 payable to the Charles B. Rangel Legal Expense Trust, and included an explanation of the applicable campaign finance laws.
"Similar to a political action committee, an expense trust can accept up to $5,000 per calendar year," the e-mail said. "But unlike a PAC, the expense trust can accept corporate contributions but not money from federally registered lobbyists."
According to a source close to Rangel, who spoke on condition of not being identified by name, the trust is necessary to pay for any ongoing or new legal fees Rangel faces.
"Until we raise money, we cannot use campaign money for this purpose," the source told CNN, calling it a "technical matter."
While echoing Rangel's denial of wrongdoing in the new accusations filed by the National Legal and Policy Center, the source said the case would require a response.
"You can't pretend these things don't exist," the source said. "This is the law. You don't screw around with the law."
Once considered one of most powerful members of Congress, Rangel stood in the well of House earlier this month as a formal censure resolution was read aloud by House Speaker Nancy Pelosi. The chamber then voted 333-79 to censure him, the most serious punishment the House can impose short of expulsion.
Rangel, a former chairman of the tax-writing Ways and Means Committee, insisted he never used his office for "self-enrichment."
A senior member of the Congressional Black Caucus, Rangel became the 23rd House member in history to be censured. Nine others have been reprimanded.
CNN's Tom Cohen contributed to this report.
FOLLOW THIS TOPIC