White House stresses strong anti-terror effort over holidays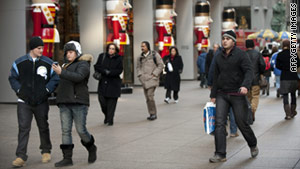 As shoppers hit the stores, the White House says it's doing "all that we possibly can" to deal with the risk of potential terrorist attacks during the holiday season.
STORY HIGHLIGHTS
Deputy National Security Advisor Brennan says this is an international effort
"We're doing all that we possibly can," the White House spokesman says
Past intelligence-sharing problems have been addressed, Brennan says
Washington (CNN) -- A top White House official said Wednesday that the federal government is stepping up its national security efforts to prevent potential terrorist attacks during the height of the holiday season.
Intelligence and law enforcement authorities are working closely with officials from other countries as part of a larger coordinated effort, said Deputy National Security Advisor John Brennan.
"We are going to be poised every day to respond" and "stop terrorists dead in their tracks," Brennan told reporters at the White House.
"We're doing all that we possibly can," White House Press Secretary Robert Gibbs added.
Brennan noted that there are no specific, credible threats at the moment.
He also said that top national security officials have adequately addressed intelligence-sharing problems that contributed to the government's failure to prevent last year's attempted Christmas bombing of a Detroit-bound plane
"We're in much better position today than we were last year at this time," Brennan said.