Congress approves defense authorization bill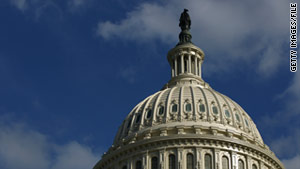 The defense authorization bill, which had been stalled, is moving forward.
STORY HIGHLIGHTS
NEW: The House approves the bill by unanimous consent
NEW: The measure now goes President Obama
The Senate passes the defense authorization bill earlier Wednesday
The legislation will allow the Pentagon to adapt to changing priorities this fiscal year
Washington (CNN) -- A revised version of the defense authorization bill that provides leeway on how to spend the Pentagon budget won approval from Congress on Wednesday, sending it to President Barack Obama to be signed into law.
The measure, which passed by unanimous consent in both the Senate and House, was a compromise version worked out in the final days of the congressional session that ended Wednesday night.
A previous version of the bill was blocked by Senate Republicans because it included several controversial provisions, including the repeal of the "don't ask, don't tell" policy barring openly gay and lesbian soldiers from the military.
Democratic Sen. Carl Levin of Michigan, the chairman of the Senate Armed Services Committee, and Sen. John McCain of Arizona, the panel's ranking Republican, agreed to remove the "don't ask, don't tell" provision and others in order to get the bill passed.
By passing the authorization bill -- something that has not been done for other parts of the federal government --Congress will provide the Pentagon with the ability to adapt to some new priorities during the current fiscal year.
Earlier Wednesday, Obama signed a spending resolution that will fund the government through March 4, 2011, at current levels. The short-term spending resolution limits the ability of government departments and agencies to shift priorities or fund new programs.
CNN's Tom Cohen and Alan Silverleib contributed to this report