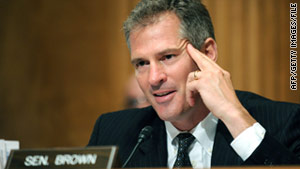 Sen. Scott Brown of Massachusetts is among the Republicans expected to vote for START.
STORY HIGHLIGHTS
NEW: Cochran is the 11th Republican to announce support for the treaty
The Senate voted to end debate Tuesday afternoon
The vote likely sets up the accord for final passage, a win for President Obama
A number of Republicans broke with conservative leaders and backed the treaty
Washington (CNN) -- The new nuclear arms control pact with Russia cleared a key procedural hurdle Tuesday as the Senate voted to cut off debate on the measure.
The 67-28 vote indicated a near-certain win for President Barack Obama on one of his top foreign policy priorities as Democrats continued to push through a series of measures before the end of the lame-duck session of Congress.
Obama signed the treaty with Russian President Dmitry Medvedev in April, and he made its ratification a major priority for current congressional session that ends in early January.
In Tuesday's procedural vote, 11 Republicans joined a unified Democratic caucus in support of the New Strategic Arms Reduction Treaty, known as New START. Senate Foreign Relations Committee Chairman John Kerry, D-Massachusetts, said the measure will proceed to a final Senate vote no later than Wednesday afternoon.
If ratified, the treaty would resume inspections of each country's nuclear arsenal while limiting both the United States and Russia to 1,550 warheads and 700 launchers.

Graham irked by START process

McConnell speaks out on START

WH optimistic on START ratification
The treaty "leaves our country with enough nuclear warheads to blow any attacker to kingdom come," Sen. Lamar Alexander, R-Tennessee, declared on the Senate floor Tuesday. "I'm convinced that Americans are safer and more secure with the New START treaty than without it."
Alexander and several other Republicans broke with hard-line conservatives in arguing the accord does nothing to interfere with missile defense. They also said, contrary to the fears of many conservatives, that they had been assured of the administration's commitment to modernizing America's aging nuclear arsenal.
Alexander was joined in his support for the treaty by 10 fellow GOP senators: Richard Lugar of Indiana, Scott Brown of Massachusetts, Thad Cochran of Mississippi, Lisa Murkowski of Alaska, Olympia Snowe and Susan Collins of Maine, George Voinovich of Ohio, Bob Corker of Tennessee, Robert Bennett of Utah and Johnny Isakson of Georgia.
Their support would be enough for Senate approval, which is the only congressional action necessary for the treaty to be ratified.
Under Senate rules, the treaty requires support from a two-thirds majority of voting senators for final approval, according to the office of Senate Majority Leader Harry Reid, D-Nevada.
Normally, that means the threshold is 67 votes. At least one Democrat, Sen. Ron Wyden of Oregon, was initially going to miss the final vote due to surgery Monday for prostate cancer -- dropping the total number of senators voting to 99 and, therefore, the threshold for approval to 66. However, Kerry indicated Tuesday that Wyden would be present for the final vote.
A burst of GOP support came one day after Senate Democrats, joined by some Republicans, defeated several proposed Republican amendments to the treaty. On Tuesday, treaty supporters voted down or tabled more Republican amendments, saying they were unnecessary and would imperil the pact by reopening negotiated language or understandings with Russia.
The defeated amendments included adding a reference to tactical nuclear weapons and a bid to remove from the preamble language recognizing a relationship between offensive and defensive weapons.
After a closed Senate session discussing New START on Monday, Kerry read reporters a letter to the Senate from Joint Chiefs Chairman Adm. Mike Mullen that expressed the full support of the military for quick ratification.
"This treaty has the full support of your uniformed military, and we all support its ratification," Kerry read from Mullen's letter.
Several conservative Republicans have insisted the treaty is insufficient. They were trying to delay final consideration of the treaty until January, when Repubilcans will have a stronger minority in the Senate to give them more leverage.
Sen. Richard Shelby, R-Alabama, earlier in the week called the pact "deeply flawed" and "a dangerous step towards undermining our national security."
"I will not support subordinating U.S. national security to an untrustworthy partner and neither should the United States Senate," he said.
Obama and Democratic leaders, conversely, have been pushing to get the agreement passed before their majority in the Senate diminishes in a couple of weeks. With legislators eager to get home for Christmas, the session is expected to end when the holiday recess begins later this week.
"I hope that my colleagues' vote is based not just on what they think about the treaty, but what they think about the process under which it's been done," said Arizona GOP Sen. Jon Kyl, echoing conservative complaints that Democratic leaders have rushed the debate over the treaty.
In a sign of the high stakes involved, Obama and other top administration officials, including Vice President Joe Biden and Secretary of State Hillary Clinton, all have been talking to senators in recent days to seek support for the treaty.
Gibbs said Monday that Obama was available to answer questions about the pact in the run-up to Tuesday's vote.
Although the White House now appears to have the necessary GOP votes needed for final approval, there were feverish talks under way Tuesday afternoon to gain the support of Arizona Sen. John McCain, who has been outspoken in his skepticism about the treaty and criticism of the process.
Sources familiar with talks with McCain say they are hoping an amendment addressing his concerns will sway him. The amendment would not change the terms of the treaty, but would clarify U.S. policy, especially in terms of ensuring that the United States does not abandon its efforts to build a missile defense system.
McCain refused to comment, and his office said the senator remains undecided on the final vote.
An overwhelming majority of Americans support ratification of the treaty, according to a CNN/Opinion Research Corporation poll released Tuesday. Seventy-three percent of people questioned in the national poll said the Senate should approve the accord, while 24 percent said senators should reject it.
CNN's Alan Silverleib, Tom Cohen, Dana Bash, Ted Barrett, and Lesa Jansen contributed to this report.
FOLLOW THIS TOPIC