Senate GOP leader says deal reached on government spending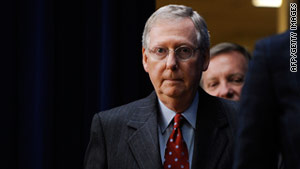 "We're going to pass a short-term continuing resolution over into March," Sen. Mitch McConnell said.
STORY HIGHLIGHTS
NEW: Senate Democratic leader says work continues on a spending measure
Sen. McConnell says the compromise will fund the government until March
Currently, government spending is authorized through Tuesday
Republicans blocked a spending bill that would have run through September
Washington (CNN) -- The Senate will consider a proposal to fund the government until March under an agreement worked out by its Republican and Democratic leaders, the chamber's top Republican told CNN on Sunday.
Spending authorization measures are necessary to keep the government running. Both the Senate and the House of Representatives last week approved a brief extension of the funding resolution that was expiring on Saturday, allowing the government to keep running through Tuesday.
That provided time to reach agreement on a further extension of the spending resolution until March, Senate Minority Leader Mitch McConnell, R-Kentucky, said on CNN's "State of the Union" program.
"We're going to pass a short-term continuing resolution over into March," McConnell said. Any Senate proposal also would require House approval, followed by the signature of President Barack Obama.
However, Senate Majority Leader Harry Reid, D-Nevada, later said work continued on the proposal.
"The Republican leader and I and our staffs have worked throughout the morning, trying to come up with something on this," Reid said on the Senate floor. "We are very close to being able to get that done, but it's not done."

Obama the 'Comeback Kid'?
Defense Secretary Robert Gates had urged the Senate to pass the spending bill because it would allow his department to meet changing priorities in the current year.
Republicans, however, complained the Senate bill would have continued excessive government spending including $8 billion in earmarks, or provisions requested by individual legislators. Their opposition meant certain defeat for the measure, prompting Reid to pull it from consideration and instead propose extending the spending resolution.
The House has passed a proposal to extend the funding resolution through the end of the fiscal year, but Republicans oppose it because they want the new Congress that convenes in January with a GOP-controlled House and stronger GOP minority in the Senate to influence spending decisions as soon as possible.
Obama had requested almost $1.14 trillion in spending for the 2011 fiscal year, which began October 1 and ends on September 30, 2011.
The resolution passed by the House is $1.089 trillion -- $45.9 billion less, according to House Appropriations Committee Chairman David Obey, D-Wisconsin, and the Senate spending bill that was dropped from consideration was slightly larger.