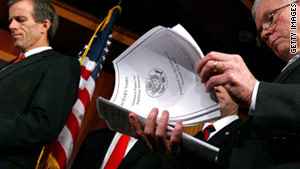 Sen. Jeff Sessions reads through a copy of the proposed START treaty next to Sen. John Thune at the Capitol.
STORY HIGHLIGHTS
House has passed tax cut deal crafted by the White House and congressional Republicans
Path cleared for much-debated treaty to reduce nuclear arsenals in the U.S. and Russia
House has passed bill to repeal the military's "don't ask, don't tell" policy
Washington (CNN) -- It's beginning to look a lot like Christmas in Washington. Call it bipartisanship, political necessity or a burning desire to get home for the holidays.
A yule logjam of legislation on taxes, spending and a hot-button social issue might be breaking in an anything-but-tame lame duck session of Congress.
Early Friday, the House of Representatives passed a tax cut deal crafted by the White House and congressional Republicans. The legislative package preserves the so-called Bush tax cuts for two years, extends unemployment benefits for 13 months and cuts the Social Security payroll tax by 2 percentage points. President Obama will sign the bill into law and make a statement on the deal at the White House on Friday afternoon.
The measure passed by a wide 277-148 margin and prevented what would have amounted to a large, across-the-board tax increase for nearly all Americans, averting a political disaster for the White House. Democrats nearly derailed the deal, complaining they had given too much ground to Republicans.
"This measure does not create a single job or stimulate the economy in any way," House Majority Whip James Clyburn said in a statement explaining his opposition to the proposal.
Many Republicans touted the package as a needed lift for taxpayers.

Explain it to me: Bush-era tax cuts

Breaking down the dropped spending bill

McCain discusses 'don't ask'
"This is the American taxpayers' money," Tennessee GOP Rep. Marsha Blackburn said on CNN's "American Morning." "This is letting taxpayers keep their money," she added.
Citing the skyrocketing national debt, many disgusted Democrats voted against the deal, knowing it could damage the president politically.
"We all like less taxes. But this came at an immense cost," Texas Democratic Rep. Lloyd Doggett said on "American Morning." "It's our money. It certainly is. But it's also our debt."
The vote came after another contested piece of legislation, a $1 trillion government spending bill, was pulled from consideration in the Senate after Republicans abandoned their support for the proposal. The measure to fund various federal agencies was also stuffed with $8 billion in pet projects earmarked by lawmakers from both parties.
Senate Majority Leader Harry Reid blasted Republicans who requested earmarks before lining up against the bill.
"I bet if you went to 'H' in the dictionary and found 'hypocrite,' under the word would be people who ask for earmarks but vote against them," Reid said.
Those earmarks, such as a $165,000 program for maple syrup research in Vermont, drew howls from Tea Party activists who warned of political reprisals against any Republican who voted in favor of the bill.
"We will go after them," Tea Party Express Chairwoman Amy Kremer said.
The move to pull the legislation comes with some risk: Democratic and Republican leaders must now craft a new temporary government funding measure, or continuing resolution, to keep the lights on in Washington until the next Congress convenes in the new year.
One beneficiary of the sudden movement on Capitol Hill is a bill passed in the House to repeal the military's "don't ask, don't tell" policy. The legislation aimed at allowing gays and lesbians to serve openly in the armed forces has picked up the support of four Republican senators, which will probably give sponsors of the measure enough votes to ensure its passage. Reid is expected to call for votes on the historic legislation this weekend.
The path has also cleared for the much-debated START treaty that would reduce nuclear arsenals in the U.S. and Russia. A steep two-thirds vote in the Senate is required to ratify the treaty. Reid said debate could last six days, pending any Republican opposition.
Some of that played out on the Senate floor Thursday.
"What do [the Russians] get out of it? What do we get out of it?" asked Senate Minority Whip Jon Kyl of Arizona. "They get everything out of it. I don't know what we get out of it except for the president to say he made another arms control deal with Russia."
Still, it's a remarkable turn of events for lawmakers on Capitol Hill and their staffers. Earlier this week, congressional leaders warned that Congress might have to work through the holidays to finish its business. Newly sworn-in freshman Republican Sen. Mark Kirk had even asked his staff to set up a Christmas tree in his office.
Not so fast, Sen. Kirk.
CNN Producer Bonney Kapp contributed to this report.
FOLLOW THIS TOPIC