Lawmakers grapple with safeguarding classified documents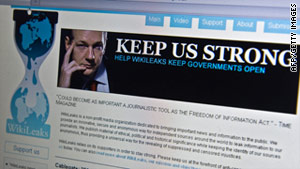 WikiLeaks says it has 250,000 classified diplomatic cables to release.
STORY HIGHLIGHTS
Lawmakers review legislation that could boosts safeguards for U.S. classified information
The hearing follows the controversial WikiLeaks publication of documents
The proposed SHIELD Act would update the Espionage Act
(CNN) -- Lawmakers heard Thursday from legal scholars and others as they considered potential legislation that could be used to keep classified information from appearing on websites such as WikiLeaks.
The hearing -- the House Judiciary Committee's firstsince WikiLeaks last month started publishing thousands of classified U.S. diplomatic cables -- comes as the Justice Department considers legal questions over how to best protect sensitive documents without infringing upon civil liberties.
The proposed Securing Human Intelligence and Enforcing Lawful Dissemination (SHIELD) Act would amend a World War I-era Espionage Act in an effort to crack down on those who would leak and publish classified communications documents.
Civil liberties advocates oppose the legislation, arguing it could provide a legal framework that would allow the federal government to prosecute news organizations that publish controversial information.
"A basic principle of our political order, enshrined in the First Amendment guarantee of freedom of speech and of the press, is that openness is an essential prerequisite of self-governance," said Gabriel Schoenfeld, a senior fellow at the Hudson Institute. "Along with individuals at liberty to give or to withhold approval to their government, informed consent requires, above all else, information, freely available and freely exchanged."
The bill's supporters say new legislative measures are needed to prevent the disclosure of sensitive information that endangers U.S. national security.
"This nation needs a strong law that makes criminal and treats as seriously as possible anyone who spies on our country; we need to address just as seriously a purposeful disclosure of national defense information," Washington-based attorney Abbe David Lowell said in a written statement. "There has to be a prohibition for the mishandling of properly classified information."
The hearing also focused on whether government documents are too often overclassified.
"The government's national security classification system is broken, overwhelmed with too much secrecy, which actually prevents the system from protecting the real secrets," said George Washington University National Security Archive Director Thomas Blanton. "The rest should all come out."
The hearing comes as WikiLeaks founder Julian Assange was granted bail by a London court, meaning he is free to leave jail until his next scheduled court hearing in January.
Assange must stay at the mansion of a supporter outside London, report to the police daily, wear an electronic tag to monitor his location and put up 200,000 pounds (about $310,000) in bail, plus two further 20,000-pound sureties (about $31,000 each), the judge ruled.