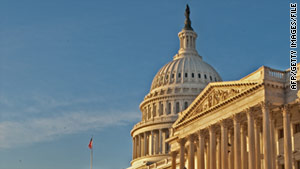 The Senate is set to begin debate on ratification of the Strategic Arms Reduction Treaty -- known as New START.
STORY HIGHLIGHTS
NEW: Kerry says it is time for Republicans to join Democrats to ratify the treaty
NEW: Kyl says rushing the treaty through before Christmas disrespects the Senate
Republicans say it is a mistake to pass treaty during lame-duck session of Congress
The treaty resumes inspections of nuclear arsenals and reduces the numbers of warheads
Washington (CNN) -- The Senate voted Wednesday to begin debate on ratifying a new nuclear arms treaty with Russia, a top presidential priority that conservative Republicans were trying to block in the current lame-duck session of Congress.
Immediately after the 66-32 vote to take up the Strategic Arms Reduction Treaty, known as New START, Senate leaders announced that the formal debate on the issue would begin Thursday, avoiding an expected request by conservative Republicans for the entire treaty to be read out loud.
Senate Republican leader Mitch McConnell of Kentucky agreed with the debate schedule announced in the chamber by Majority Leader Harry Reid, D-Nevada, noting that the treaty is supported by some leading Republicans, including Richard Lugar of Indiana, the ranking GOP member of the Senate Foreign Relations Committee.
Earlier, top Democrats blasted the expected Republican request to read the treaty out loud -- which would take 12 hours -- as an intentional delay in considering the treaty that resumes inspections of nuclear arsenals and limits the number of warheads for both countries.
"This is a new low in putting political stunts ahead of our national security, and it is exactly the kind of Washington game-playing that the American people are sick of," White House Press Secretary Robert Gibbs said in a statement.
Gibbs noted that the treaty "has been the subject of nearly 20 Senate hearings and 1,000 questions" and added, "It is the height of hypocrisy to complain that there is not enough time to consider this treaty, while wasting so much time reading aloud a document that was submitted to the Senate months ago."
Sen. Jim DeMint, R-South Carolina, had indicated earlier he would request that the treaty be read out loud, saying, "I know that a number of Republicans who support the treaty are frustrated with the idea of trying to jam it through with Christmas as our backstop.

Obama: New START treaty needs approval

Why the U.S. should care about START
"While it's being read, it does give us time to pull together and come up with our ideas and try to talk to the American people through the media," said DeMint, a conservative who has become a leading voice in the Tea Party movement.
A spokesman for DeMint said later that delaying formal debate on the treaty until Thursday achieved the same purpose as taking 12 hours or more to read the document out loud.
Republicans had pledged to block consideration of any other legislative items until passage of both the tax deal and a measure to authorize government spending. The current resolution authorizing government spending runs out Saturday, requiring congressional approval of a new one to cover the rest of the fiscal year.
Reid has said the Senate will remain session to complete its work, even it means cutting into the upcoming holiday recess scheduled to begin Saturday. He blasted DeMint and his fellow conservative, Sen. Jon Kyl of Arizona, as out of touch with Americans who have to work over the Christmas-New Year's period by complaining that the Senate might have to remain in session beyond the scheduled start of its holiday recess Saturday.
They "have the nerve to whine" about staying "to do the work" of the American people, Reid said of DeMint and Kyl. "It's offensive to me and millions of working Americans" for people to say that working through the holidays is "sacrilegious or disrespectful."
Kyl later said he didn't appreciate Reid's comments, saying it was "disrespectful of the Senate" to rush its consideration of major issues.
Reid has insisted that he has sufficient support to ratify the START accord. But some Senate Republicans, including DeMint and Kyl, have opposed bringing the measure up with so little time left in the lame-duck session.
Kyl told reporters Wednesday that a rushed schedule to debate the treaty would prevent Republican senators from being able to offer substantive amendments that require serious debate. He expressed "great frustration and disappointment" with what he called the refusal of Reid and Senate Democrats to put off the debate until there is time to do it properly in the new Congress that convenes in early January.
At the same news conference, Republican Sen. Orrin Hatch of Utah said the START pact would likely win Senate ratification if handled properly, but "to ram this through at this crucial time of the year, ... I think it's just not right."
However, Senate Democrats said Kyl and Republicans have been given plenty of opportunities to discuss and influence the treaty, and now must show that they truly want it to go forward instead of continuing to delay it.
"I would ask them in good conscious to ask themselves why we are here at this late hour," Democratic Sen. John Kerry of Massachusetts, the chairman of the Foreign Relations Committee, said at a news conference. According to Kerry, Kyl had made 13 requests this year to delay consideration of the treaty so that he could push the Obama administration to strengthen efforts to modernize the U.S. nuclear arsenal.
"I think there's such a thing as reciprocity," Kerry said, while Democratic colleague Sen. Carl Levin of Michigan said that reciprocity must be "a two-way street."
The accord, which cleared the Senate Foreign Relations Committee in September, would resume mutual inspections of U.S. and Russian nuclear arsenals while limiting both nations to 1,550 warheads and 700 launchers each.
Ratification requires support from two-thirds of the Senate, or 67 votes. Democrats currently control 58 seats and need nine Republicans for ratification. In the new congressional session, the Democrats will have only 53 seats and would need 14 Republican votes to ratify the treaty.
Obama said last week that the Senate would take up the treaty before the end of the year, based on a conversation he had with McConnell, and Gibbs predicted that "START will get done with a strong bipartisan vote."
In a recent Washington Post editorial, five big guns of Republican foreign policy -- former secretaries of state Henry Kissinger, George Shultz, James Baker, Lawrence Eagleburger and Colin Powell -- urged their fellow Republicans to support the treaty, which they say is "is clearly in our national interest."
CNN's Dana Bash, Ted Barrett, Alan Silverleib and Tom Cohen contributed to this report.