STORY HIGHLIGHTS
German city takes an creative approach to dealing with its deficit -- taxing prostitutes
Rahm Emanuel endures 11 hours of grilling over a mayoral bid
Meghan McCain chides John Boehner on his weepy tendencies
Washington (CNN) -- Politics is serious business -- but not all of the time. From the halls of Congress to the campaign trail to the international stage, there's always something that gets a laugh or a second glance.
New tricks for reducing deficit
A city in Germany, strapped with a 100 million euro (or $133 million) deficit, has taken a novel approach to fixing it: taxing sex, according to Reuters.
The city of Dortmund has introduced a day tax on prostitutes to help close its budget gap.
"The new 'pleasure tax' requires prostitutes in Dortmund to purchase a 6 euro 'day ticket' for each day they work, or face a potential fine," the Reuters report said. "The city estimates that the new tax will add some 750,000 euros [about $1 million] to its coffers each year."
Stop crying, start governing
Meghan McCain, the outspoken daughter of Sen. John McCain, certainly doesn't hold back her feelings when it comes to the current political climate.
And she let her feelings known about incoming House Speaker John Boehner's tendency to get emotional and cry, Politico reports.
"This may be a little politically incorrect: My father's old-school. Grown men crying makes me very uncomfortable," she said on "Imus in the Morning" Wednesday. "Run the country and stop telling me about your emotions ... This isn't the first time. He's always crying," she said.
Notable quotable
"[Boehner's] a very emotional guy. ... I think in this day and age in politics you have to be an emotional guy. But come on. Honestly, he's like a cheerleader, this guy. He will break down and sob at the drop of a hat. As a matter of fact, Leslie Stahl dropped her hat and he started crying." -- David Letterman
Writers to the rescue
The Daily Beast recently asked noted authors to weigh in on how to help President Obama get his mojo back:
• Sam Lipsyte: "When I am writing and floundering, with no sense of where to go, I look back to the beginning of what I am working on, and ask: Where did I start? What set this all into motion? Obama could do the same with his novel, of which we are all characters."
• Margaret Atwood: "Ask the sci-fi writers to do some plots whereby the president has been taken over by the Pod People."
• Alex Berenson: "The number one way you change the narrative is give him a villain."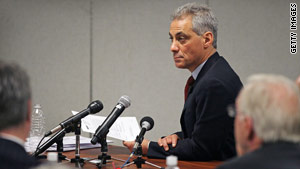 11 hours 'Rahmbo' wishes he could get back
Former White House chief of staff Rahm Emanuel faced a grilling Tuesday from activists who say he is ineligible to run for Chicago, Illinois, mayor because he doesn't live there.
"[He] kept his famously sharp political tongue in check for more than 11 hours Tuesday as a phalanx of indignant activists and a seasoned election attorney poked and prodded him during a hearing on whether he is eligible to run for mayor of Chicago," the Chicago Tribune reports.
Headline of the day
Los Angeles Times blog: "What if Obama's healthcare law required every American to buy a gun? How'd you feel about that?"
No more slinging dough for Jack
"Disgraced ex-lobbyist Jack Abramoff has left his job at a small kosher pizzeria in Baltimore after working there for nearly six months" -- The Hill
A nation of working 'Golden Girls' and guys
A USA Today analysis finds that the number of people 55 and older holding jobs "is on track to hit a record 28 million in 2010 while young people increasingly are squeezed out of the labor market."
The good news? "The trend of older people working more and younger people working less is fundamentally reshaping the labor force and slightly easing pressure on government retirement programs."
Living on a prayer at 1600
Rocker Jon Bon Jovi has been tapped by Obama to join the president's newly formed White House Council for Community Solutions.
No word yet if his first statement will involve the words "I Believe" or "Keep the faith."
Late-night laughs
Jimmy Fallon: "I don't know how she did it, but the whole country is suddenly turning into 'Sarah Palin's Alaska'" -- referring to the cold weather gripping much of the nation.
Jon Stewart: "You're gonna leave that guy [Bill Clinton], the Michael Jordan of press briefings, in charge while you go to a Christmas party? You know, Mr. President, that's the kind of cool confidence that borders on delusional," referring to Obama's press conference with the former president last week.
Jay Leno: "It looks like unemployment is up -- especially if you're the guy who designed the [collapsed] inflatable dome where the [Minnesota] Vikings play."
FOLLOW THIS TOPIC