STORY HIGHLIGHTS
Jon Stewart takes on Republicans over their opposition to the 9/11 bill
Barbara Walters wonders if John Boehner has an emotional problem
First lady Michelle Obama gets upstaged by her dog Bo
Washington (CNN) -- Politics is serious business -- but not all of the time. From the halls of Congress to the campaign trail to the international stage, there's always something that gets a laugh or a second glance. Here are some of the things you might have missed:
The world according to Jon
Funnyman Jon Stewart, host of Comedy Central's "The Daily Show," lambasted Republicans for failing to pass a multibillion-dollar bill that would help 9/11 responders pay for health problems that arose from working at ground zero, among other things.
Or as Stewart puts it, "the 'least we can do/no brainer act of 2010.'"
While chastising Republicans from not appearing on camera to justify their lack of action on the bill, which failed to pass, Stewart said, "Of course the Republicans wouldn't be so cowardly as to not vote for the bill and justifying their actions -- just cowardly enough not to do it on camera," he said.
And his parting message was clear: "So guess what, Republicans. Here's the deal: You're the 'We're the only party who understands 9/11' monopoly ends now," he said. "So no more co-opting 9/11 imagery to get yourselves elected. No more using 9/11 as the date when magically all your policies became right."
The zinger: "You know what, Republicans? You use it so much [that] if you don't owe the 9/11 responders health care, at least you owe them royalties!"
What's in a name?
President George W. Bush, in an interview with conservative radio host Scott Hennen, said he wished politicians in Washington would stop calling them the "Bush tax cuts."
"Well, I wish they would of called it something other than the Bush tax cuts," he said, "and therefore would have been less angst amongst some to pass it."
Right now, House Democrats and even some conservative Republicans are opposed to passing the nearly $900 billion tax cut compromise bill, which includes an extension of tax cuts that Bush enacted.
Move over Alicia Keys
Russian Prime Minister Vladimir Putin has taken time off from riding horses shirtless to tickle the ivories.
Putin played the piano December 10 at a charity concert in St. Petersburg for children with cancer and eye diseases, the Russian website rus.ruvr.ru reported.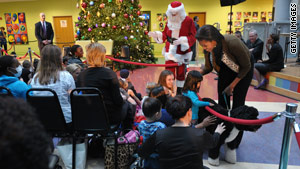 Hey! What about me?
It seems first dog Bo Obama has stolen the show. In this AFP/Getty Images photo, first lady Michelle Obama and Bo meet kids at the Children's National Medical Center on Monday.
Notable quotable
"This guy has an emotional problem. Every time he talks about anything that's not 'raise taxes,' he cries ... If you had seen Nancy Pelosi all these past years crying, what would you say? ... she's got a problem." -- ABC's "The View" co-host Barbara Walters on future House Speaker John Boehner's frequent crying.
Headline of the day
AOL News: "John Boehner: Weeper of the House"
Headline of the day part deux
Daily Beast: "Julian Assange, Chick Magnet?"
Kindle justice
Supreme Court Justice Elena Kagan told C-Span that she frequently reads legal briefs on her Kindle reader.
"I have a Kindle that my briefs are on," Kagan said. "It's endless reading ... There's lots of reading. And that's a big part of the job, and if a Kindle or an iPad can make it easier, that's terrific."
From porn star to mayoral hopeful
Ray-J -- the singer and reality star famous for starring in a sex tape with socialite Kim Kardashian -- says he wants to run for mayor of Carson, California, according to the Torrance Daily Breeze.
"I'ma be mayor of Carson," he said in an interview with AllHipHop.com. "Not now. I still got a lot of learning to do. Focusing and a lot of reaching back out to the community, and paying my dues. But in the future coming around the stretch, you know, I do see myself doing stuff like that."
Late-nigh laughs
George Lopez: "Today in Washington, President Obama signed a child nutrition bill to ensure that all American kids eat healthier. It is called 'no child with a big behind will be left behind.'"
David Letterman: "Over the weekend Sarah Palin, part-time governor of Alaska, flew down to Haiti to help earthquake victims. The poor people of Haiti. Your heart really goes out to them. They can't get a break: The earthquake, the hurricanes and now Sarah Palin."
Jimmy Fallon: "On Friday, President Obama left Bill Clinton alone with the press to take questions about their meeting because he had to go to a White House Christmas party. Clinton was like, 'Just do me a solid. Text me when anyone but Hillary walks under the mistletoe.' "
Jay Leno: "President Obama left the podium because his wife wanted him to go to this Christmas party. So he left Bill Clinton in charge, and a lot of people thought that was a dumb thing to do. Hey believe me, that's a lot smarter than staying there and letting Bill Clinton take your wife to a party."
FOLLOW THIS TOPIC