Steele will run for another term as RNC chairman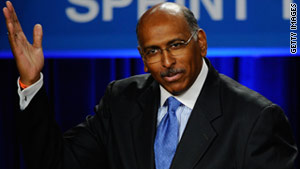 RNC chairman Michael Steele is hosting a private conference call Monday.
STORY HIGHLIGHTS
Steele announces the decision in a conference call with RNC committee members
Several candidates have lined up to replace Steele
The decision will be made in January
Washington (CNN) -- Michael Steele announced Monday that he will seek a second term as chairman of the Republican National Committee, according to several committee members who took part in a private conference call with him.
The chairman, whose tenure has been marred by controversial public statements and questions about his handling of party finances, has remained mum about his future in recent weeks as several candidates have lined up to replace him.
One of Steele's top allies on the committee, Wisconsin GOP chairman Reince Priebus, has entered the race to replace him as chairman.
Along with Priebus, Michigan committeeman Saul Anuzis and former Missouri chairwoman Ann Wagner also are officially in the race.

Michael Steele: 'I ain't going anywhere'

DNC chairman: Steele will survive
Over the weekend, former Bush administration official Maria Cino formally entered the race with a new website and a three-page letter mailed to committee members outlining her credentials and biography.
Former RNC Political Director Gentry Collins also will enter the race, sources close to Collins told CNN on Monday.
Collins, a veteran political operative, resigned his RNC post last month with a blistering letter to Steele that accused the controversial chairman of poor financial oversight that may have cost the GOP several House seats in the mid-term elections.
In addition, former RNC Chairman Mike Duncan and former Minnesota Sen. Norm Coleman are also contemplating bids.
RNC members will elect the next chairman in January at the committee's winter meeting in Maryland.