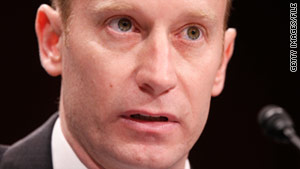 Former Air Force Major Michael Almy is suing to be reinstated into the service.
STORY HIGHLIGHTS
The filing is a "shot across the bow," legal organization says
All three plaintiffs received numerous military awards before being discharged
The organization says it is also working on other lawsuits
San Francisco (CNN) -- A federal lawsuit was filed Monday on behalf of three service members discharged from the U.S. military under the "don't ask, don't tell" policy, asking for their reinstatement, according to attorneys representing the three.
"This filing is a shot across the bow as we prepare to pursue and sustain an aggressive, far-reaching litigation strategy if the Senate fails to act this month to repeal the law," Aubrey Sarvis, executive director of the Servicemembers Legal Defense Network, said in a statement.
"This dispute can be resolved by Congress or by the courts. With this filing we put Congress on notice that a cadre of service members and our national legal team stand ready to litigate strategically around the country," Sarvis said.
The plaintiffs are Michael D. Almy, who served in the United States Air Force for 13 years; Anthony J. Loverde, who served seven years in the Air Force; and Jason D. Knight, who served a total of five years in the U.S. Navy, according to the attorneys. All three received numerous military awards during their service, according to the statement.
The suit was filed in U.S. District Court for the Northern District of California. The three are represented by the Servicemembers Legal Defense Network and by the firm Morrison and Foerster, which was founded in San Francisco but has offices in the United States and Europe.
"Today we are asking the court to allow these three brave Americans to fulfill the commitment they made years ago when they joined the military," M. Andrew Woodmansee of Morrison and Foerster said in the statement. "They simply want to serve their country, and it is fundamentally un-American to refuse their service merely because they are gay."
"Throughout our nation's history, citizens have turned to the courts to remedy injustices when Congress would not act," Woodmansee said. "If the Senate will not meet its obligations by ending this unconstitutional law, we will ask the court to step in to protect the rights of my clients as well as all the men and women who wish to serve this country in the military."
On Thursday, the Senate rejected a Democratic bid to open debate on a defense authorization bill that includes a repeal of the "don't ask, don't tell" policy. The House has passed the repeal measure, but with time running out in the current lame-duck session of Congress, Democrats were uncertain they could overcome Republican opposition and approve the proposal.
Democrats were pushing for action now because the new Congress in January brings a Republican-controlled House and a decreased Democratic majority in the Senate, which will make repealing the policy more difficult.
But GOP senators have pledged to block Senate business until after approval of an extension of Bush-era tax cuts and action on a bill authorizing government spending for the fiscal year.
Defense Secretary Robert Gates said Friday that a failure to repeal the law leaves the armed services vulnerable to the possibility the courts will order an immediate end to the policy. "My greatest worry will be that we are at the mercy of the courts and all of the lack of predictability that that entails," Gates said.
The Servicemembers Legal Defense Network describes itself on its website as a "non-partisan, non-profit legal services, watchdog and policy organization dedicated to ending discrimination against and harassment of military personnel" affected by the "don't ask, don't tell" policy. It provides free and confidential legal services to those affected, it says.
The organization is preparing litigation on behalf of young people who would enter the military but have been deterred from doing so because of the policy, Sarvis said in the statement. It also is working on a suit involving clients discharged under "don't ask, don't tell" who want to enter the reserves or a National Guard unit.
"We plan to file such cases early next year if Congress fails to act," Sarvis said.
Almy was deployed to Iraq beginning in 2004, according to the lawsuit. The Air Force prohibited airmen from using private e-mail accounts, meaning they used government-provided computers and e-mail accounts for personal correspondence. Shortly after he left Iraq in January 2005, another Air Force member, in a purportedly "routine" search of his computer files, found Almy's personal e-mails in a folder labeled "Friends." They included "at least one e-mail from Mr. Almy to another man discussing same-sex conduct," the lawsuit said.
The material was turned over to Almy's commander, who "confronted him with the e-mails, read him the DADT law and pressured him to acknowledge he is gay," the lawsuit said. Despite numerous character reference letters from Almy's superiors as well as his colleagues, he received an honorable discharge in July 2006.
Loverde, who also was highly decorated and had excellent performance reviews, was deployed to Ali Al Salem Air Force Base in Kuwait in 2007, where it became clear to him "that he could no longer continue pretending to be someone he was not," according to the lawsuit. When he returned from deployment, he e-mailed two of his superior officers and told them he was gay. "He told his superior officers that although he would like to continue to serve, he could not do so if it also meant continuing to conceal his sexual orientation," the suit said.
He received an honorable discharge in July 2008. Ironically, according to the suit, Loverde was awarded the Air Medal the following month for his "superior ability in the presence of perilous conditions" during his Iraqi deployment. "The Air Medal Citation noted that 'the professional ability and outstanding aerial accomplishments of Sergeant Loverde reflect great credit upon himself and the United States Air Force,' " the suit said.
Knight was discharged after he filed paperwork in 2004 to annul his marriage after he realized he is gay. "In keeping with the Navy's core values of honesty and integrity, he provided the Navy with copies of his annulment and with a written statement to his commander, in which Mr. Knight revealed his sexual orientation."
He was discharged in April 2005. Because of a bureaucratic error, however, his discharge papers showed him as eligible for active duty recall. He was recalled to active-duty service in July 2006 and was deployed to Kuwait. "During this entire tour of duty, he served as an openly gay man out to his immediate chain of command and to most of the rest of his command," the lawsuit said.
Like the others, Knight had positive reviews and was decorated, the suit said. But he was discharged a second time after he wrote a letter to the editor of the military newspaper Stars and Stripes responding to comments from Gen. Peter Pace, then-chairman of the Joint Chiefs of Staff, who said in March 2007 that he believed homosexuality was "immoral." In May 2007, Knight was the subject of an article in the Stars and Stripes about serving while openly gay. He was discharged the same month.
"The plaintiffs are three service members who want to serve their country again," Sarvis said in the statement. "They represent some of our best and brightest who were fired because of who they are, despite their decorated records."
FOLLOW THIS TOPIC