Palin arrives in Haiti with humanitarian delegation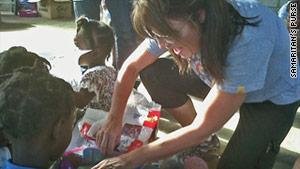 Sarah Palin visits with children after her arrival Saturday in Haiti.
STORY HIGHLIGHTS
NEW: Sarah Palin has landed in Haiti, a Graham spokesman says
She is traveling with Franklin Graham, the head of Samaritan's Purse
She has not commented publicly on the trip
The visit comes as Haiti is fighting a massive cholera outbreak
Are you in Haiti? Share your Palin images and cholera updates with CNN iReport.
Port-Au-Prince, Haiti (CNN) -- Former Alaska Gov. Sarah Palin arrived in Haiti on Saturday as part of a humanitarian delegation led by evangelist Franklin Graham and his relief organization Samaritan's Purse.
"I am pleased that Gov. Palin will accompany us on a brief trip to Haiti this weekend, and I appreciate her willingness to visit Haiti during such troubled times," Graham said in a statement on the organization's website.
"I believe Gov. Palin will be a great encouragement to the people of Haiti and to the organizations, both government and private, working so hard to provide desperately needed relief."
Palin -- the Republican vice-presidential candidate in the 2008 election -- has not commented on the widely reported trip. Many observers believe she is considering a run for president in 2012.
The visit comes as Haiti is fighting a massive cholera outbreak that has killed more than 2,000 people and sickened nearly 100,000.
The country has been struggling to recover from January's massive earthquake that left more than 220,000 dead.
A disputed presidential election has threatened to plunge the country into further chaos.
Graham's delegation is expected to stop at a cholera clinic where they will deliver holiday gifts to children under Samaritan Purse's Operation Christmas Child.