White House press secretary predicts START ratification this year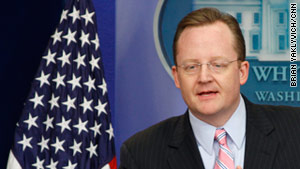 White House Press Secretary Robert Gibbs insists that Congress will stay in session as long as it takes to ratify a new arms control treaty with Russia.
STORY HIGHLIGHTS
The White House spokesman says Congress will stay in session as long as it takes
Two moderate Republicans declare they will vote for ratification
Democrats need nine Republican votes to get the necessary 67 for ratification
Washington (CNN) -- The Senate will ratify a new arms control treaty with Russia this year, staying in session however long it takes to get it done, White House Press Secretary Robert Gibbs insisted on Friday.
Gibbs made his prediction on the same day that Maine's two moderate Republican senators -- Olympia Snowe and Susan Collins -- declared their support for the new Strategic Arms Reduction Treaty, or START. Previously, GOP Sen. Richard Lugar of Indiana backed ratification of the treaty.
In addition, Republican Sen. John McCain of Arizona also said Friday that he wanted to see the treaty ratified, but he questioned if there was time to do that before the current lame-duck session of Congress ends in early January.
The Senate currently is scheduled to break for the Christmas-New Year holidays on December 18, effectively ending the session. However, Gibbs made clear that ratifying the START treaty was a top priority, and that Democrats would find the necessary nine Republican votes needed to reach the required two-thirds threshold of 67.
"We're going to get more than 67 votes," Gibbs told reporters, adding: "Congress won't leave before START is done, START will get done, and START will get done with a strong bipartisan vote."
The Senate Foreign Relations Committee voted for ratification of the New START in September, but a vote from the full Senate has yet to occur. The treaty would resume mutual inspections of U.S. and Russian nuclear arsenals, while limiting both nations to 1,550 warheads and 700 launchers each.
Republican Sen. Jon Kyl of Arizona has tried to block ratification of the treaty this year, demanding additional investment in modernizing the U.S. arsenal and insisting there wasn't time for a proper debate. However, the support for ratification by McCain, Kyl's fellow conservative from Arizona, signaled possible momentum for ratification in coming weeks.
In a recent Washington Post editorial, five big guns of Republican foreign policy -- former Secretaries of State Henry Kissinger, George Shultz, James Baker, Lawrence Eagleburger and Colin Powell -- urged their fellow Republicans to support the treaty, which they say is "is clearly in our national interest."
President Barack Obama and Democratic leaders also are pushing to get the treaty ratified now to signal U.S. commitment to it and resume inspections of Russia's program. In addition, the Democratic majority in the Senate will decrease in the new congressional session that begins in January, which would increase the number of Republican votes necessary for ratification to 14.
On Wednesday, Obama told reporters that he had spoken to Senate Minority Leader Mitch McConnell, R-Kentucky, about the issue and was confident that the treaty would be debated and ratified by the end of the year.
CNN's Dana Bash and Tom Cohen contributed to this report.