Reid may press ahead with 'don't ask, don't tell' vote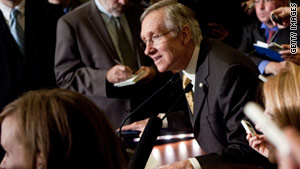 Senate Majority Leader Harry Reid said Thursday there may be a vote on the repeal of "don't ask, don't tell."
STORY HIGHLIGHTS
A Thursday vote could doom the repeal of the policy
Leiberman says if the vote is delayed, enough votes can be found
The Senate calendar is a factor
Washington (CNN) -- Senate Majority Leader Harry Reid may be pressing ahead with a Senate vote Thursday that could doom the repeal of the military's "don't ask, don't tell" policy on gay service members.
The vote may come despite progress in talks Wednesday night on a deal to get GOP Maine Sen. Susan Collins' vote. Collins, a supporter of the repeal, had been demanding ample debate time and amendments in exchange for her vote to start debate on the defense bill, which includes the repeal.
Wednesday night, Collins and Reid agreed to 15 amendments -- 10 put forth by Republicans and five from Democrats.
The timing of the debate has yet to be determined. Collins wants to wait until after the tax cut vote in order to provide more time for the defense bill.
Sources on all sides said more discussions are not out of the question and an agreement is still possible, but the fact that Reid said Thursday there may be a vote later in the day suggests Collins may not get her wish.
Collins' aides insist she is negotiating in good faith, but a source close to Reid said there is doubt they can ever give Collins the terms she wants to secure her vote.
Independent Sen. Joe Lieberman of Connecticut, a leading supporter of the repeal who is trying to broker an agreement, insists they are close, and said if Reid delays the vote, the 60 votes needed to pass a change to the 17-year-old policy could be found.
The calendar is the main factor influencing matters. Reid is trying to squeeze in both a tax cut debate and a lengthy debate on ratifying the START treaty with Russia before the Senate leaves for its holiday break.
"My sense is that they have too much to do and not enough time left to do it so they just have to go with the vote," said a senior congressional source involved in the talks.
"If senators move forward with a vote on NDAA (the National Defense Authorization Act) before a deal has been solidified, the vote will fail, and all key players will share the responsibility," said Fred Sainz, spokesman for the Human Rights Campaign.