STORY HIGHLIGHTS
New York Mayor Michael Bloomberg is a hit at Toy Party
Secretary of State Hillary Clinton jokes about WikiLeaks
"SNL," Jay Leno also take on WikiLeaks
Washington (CNN) -- Politics is serious business -- but not all the time. From the halls of Congress to the campaign trail to the international stage, there's always something that gets a laugh or a second glance. Here are some things you might have missed:
I (don't) love Lucy
Senate Majority Leader Harry Reid lashed out at Sen. John McCain on the Senate floor on Saturday for his opposition to repealing "don't ask, don't tell" -- the military's ban on openly gay and lesbian troops -- and took a cartoon-like approach to the matter, Politico reports.
"When the Pentagon produced the study saying repeal would have no negative effect at all, (McCain) pulled away the football again," Reid said, referring to the "Peanuts" cartoon character Lucy, who always pulls the football from Charlie Brown as he goes to kick it.
Notable quotable
"It's this lip. It's hard to say. ... You try it when you've had 12 stitches," President Obama joked on Sunday night when he couldn't say the word "superfluous" during a White House event for this year's Kennedy Center honorees. The president was injured in a pickup basketball game the day after Thanksgiving.
Bloomberg toys with comedy
Mayor Michael Bloomberg is, by most accounts, popular with New Yorkers. And, by the sound of it, the gay community.
"I haven't seen so many guys since there was a Ricky Martin book signing," he said, joking about the number of gay men at the annual Toy Party on Friday night at Chelsea Piers.
The New York Daily News reports that he was showered with an "uproar of clapping and yelling from the male-mob, among shouts of "Bloomberg for president" when he said marriage equality should be law.

Headline of the day
TMZ: "Queen Elizabeth II -- Underwear Up for Auction"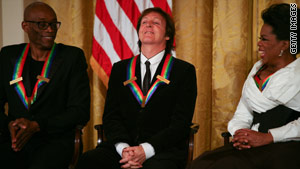 Caption this photo
Submit your answers in the comments field.
Obama gangsta enough?
Comedian Bill Maher certainly does not hold back when it comes to frustrations with both Democrats and Republicans. And he's been vocal about Obama as well.
"I thought, when we elected the first black president, as a comedian, I thought two years in, I'd be making jokes about what a gangsta he was, you know?" Maher said on CNN's "Fareed Zakaria GPS"

on Sunday. Instead, Maher said, we've got "President Wayne Brady."
And it didn't stop there: "I'm so disappointed that he just seems to be another in a long line of Democrats that come across as wimpy and wussy ... and of not standing up for what they believe in enough."
Speaking of comedy ...
Secretary of State Hillary Clinton has had a rough couple of weeks with the release of hundreds of thousands of diplomatic cables by WikiLeaks. On Sunday at the Kennedy Center Honors, she made light of her frustration.
"I am writing a cable about it, which I'm sure you'll find soon on your closest website," she said to loud laughter.
Late-night laughs, the WikiLeaks edition
Seth Meyers on "Saturday Night Live": This week, American diplomacy accidentally hit 'reply all.' "
"SNL" cast member Bill Hader playing WikiLeaks founder Julian Assange: "Do I suck a little bit? I do, yeah. Can you try me for treason? You can't, because I'm from Australia -- nice try, dummies. In closing, I want to remind you all that no matter how I die, it was murder."
Jay Leno: "President Obama made a surprise visit to Afghanistan -- a complete surprise. Nobody knew he was going -- except of course the WikiLeak guy."
FOLLOW THIS TOPIC