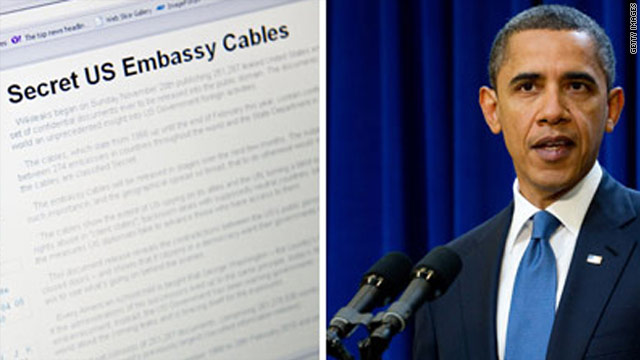 STORY HIGHLIGHTS
Obama administration is under fire for the release of diplomatic cables by WikiLeaks
The White House could have done more, a Republican congressman says
But others are, instead, focusing their criticism on WikiLeaks founder
Washington (CNN) -- Some critics are blasting the Obama administration in the wake of WikiLeaks' release of State Department cables.
"I didn't see a passion from the people at the Department of State who should have been furious that this database at the Department of Defense has been compromised and that, therefore, they've potentially lost all of these documents to this private first class and then to WikiLeaks and then to The New York Times and other places," Rep. Peter Hoesktra, R-Michigan, told CNN.
"I didn't walk way from there feeling really confident that there was a sense of urgency to fix the problem and to make sure that it would never happen again."
The fact that some of the material and its handling goes back to the Bush administration has limited the political fallout for the current administration.

Pakistan responds to WikiLeaks release

WikiLeaks ramifications
Hoekstra -- the ranking Republican on the House Intelligence Committee -- blasted the Bush administration as well for not taking precautions, saying that this review should have happened years ago, right after the September 11, 2001, terrorist attacks.
"Back when we did the intelligence reform bill, we appointed the director of national intelligence to take a look at information-sharing," he said. "Databases were created. They were put together, but they were done, from my perspective -- it was sloppy, it was lazy."
Jennifer Duffy, a political analyst at the nonpartisan Cook Political Report, said the lack of major political fallout for the White House is because of the "fundamental lack of understanding by most voters of the impact of the leaks on short- and long-term foreign policy."
"It doesn't help that a lot of voters don't pay much attention to these kinds of stories," she said. "Thus, there's not the kind of public outcry you might see on a more domestic policy-oriented story."
If WikiLeaks does what is rumored -- a dump of Wall Street-related documents -- "I can see that creating much more of a public firestorm," Duffy said.
The release of the diplomatic cables, which have been published in several media outlets, set off an outcry in Washington and throughout the world. The cables reveal classified U.S. policy and describe some foreign leaders in less than flattering terms.
The cables so far released haven't revealed any diplomatic blunders, according to most experts, but offer a look at candid, private diplomatic exchanges.
Secretary of State Hillary Clinton, at a security summit in Astana, Kazakhstan, expressed confidence that the leaks will not adversely affect U.S. relations with other countries.
"I have certainly raised the issue of the leaks in order to assure our colleagues that it will not in any way interfere with American diplomacy or our commitment to continuing important work that is ongoing," she said. "I have not had any concerns expressed about whether any nation will not continue to work with and discuss matters of importance to us both going forward."
Still, that's not stopping one of the administration's toughest critics from lashing out.
In a post published Monday on the social networking site Facebook, Sarah Palin, the former Alaska governor and potential GOP presidential candidate, said the document release "raises serious questions about the Obama administration's incompetent handling of this whole fiasco."
CNN Senior Political Analyst David Gergen said there were a series of things the White House could have done.
"You would have thought they would have packaged and said, 'Boom! We are on top of this. We're going to get this SOB if we can, but know that your security is in good hands,' rather than this sort of sense of scrambling."
White House Press Secretary Robert Gibbs was quick to defend the administration's efforts.
"I don't think it's accurate to say that we somehow read the paper over the weekend and started to do this," Gibbs said this week. "This is an ongoing effort to, as we talked about here on Monday, to ensure that we have the type of information sharing that we understand is important."
In response to the leaks, the White House appointed Russell Travers -- the deputy director of the National Counterterrorism Center -- to find and fix the computer security gaps.
While there are critics, there are also some unlikely allies who acknowledge that the cables span both Democratic and Republican administrations. Their focus, rather than blaming the White House, is to blast WikiLeaks founder Julian Assange.
"I hope we can find out where this is coming from and go after them with the force of law," Sen. Claire McCaskill, D-Missouri, said.
Her Republican colleague, South Carolina Sen. Lindsay Graham, said on "Fox News Sunday" that leaking the material "is deplorable" and the people at WikiLeaks "could have blood on their hands."
Some even recommend the harshest of actions.
Former Arkansas Gov. Mike Huckabee indicated those responsible for the leak should face execution, saying, "Whoever in our government leaked that information is guilty of treason. And I think anything less than execution is too kind a penalty."
"They've put American lives at risk ... and any lives they endanger they're personally responsible for and the blood is on their hands."
Former House Speaker Newt Gingrich said Tuesday on Fox News that "the WikiLeaks guy should be in jail for the rest of his life." Gingrich called Assange an enemy of the United States and said he is "going to get a lot of folks killed."
New York Rep. Peter King, the ranking member of the House committee on Homeland Security, told CNN Tuesday that Assange is an enemy combatant.
CNN's Jill Dougherty and Rebecca Stewart contributed to this report.
FOLLOW THIS TOPIC