STORY HIGHLIGHTS
White House speechwriter Jon Lovett wins Washington's "Funniest Celebrity" contest
Christine O'Donnell tweets that she has signed a book deal with St. Martin's Press
Rep. Cathy McMorris Rodgers gives birth for the second time while in office
Washington (CNN) -- Politics is serious business -- but not all of the time. From the halls of Congress to the campaign trail to the international stage, there's always something that gets a laugh or a second glance. Here are some of the things you might have missed:
Are you trying to tell me something?
Las Vegas Review-Journal's Steve Tetreault reports that embattled Sen. John Ensign "received an early Christmas present on Thursday, besides the news the Justice Department no longer is targeting him in a criminal probe."
The gift? Guests said Senate Majority Leader Harry Reid gave Ensign a gift-wrapped bottle of Rogaine at their joint staff holiday party.
"This is to help you, John, prepare for getting older," Reid said to Ensign.
Everyone's a comedian
White House speechwriter Jon Lovett won Washington's annual "Funniest Celebrity" contest on Thursday, Politico's Patrick Gavin writes.
While the crowd at the DC Improv roared at his jokes, the White House may not appreciate the candor.
"A lot of people tonight have made some jokes about the TSA; I am, too," he joked. "I don't understand what all the fuss is about, you know. First of all, these things are designed to keep us safe. Second of all, it's giving a way for, you know, defrocked priests to get their lives back together, give back to the community, lend a ... well, not lend a hand, but you know."
From the Twitterverse
Christine O'Donnell, the Republican who lost her Senate race in Delaware and who is best known for her "I'm not a witch" television ad, announced on her Twitter account that she has signed a book deal with St. Martin's Press.
A first
The Hill reports that on Wednesday Rep. Cathy McMorris Rodgers, R-Washington, "became the first member of Congress to give birth twice while in office."
Declining to release their daughter's name, she did say the baby was born at 12:21 a.m. and weighed 8 pounds, 4.5 ounces.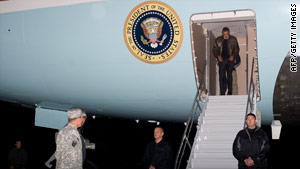 Surprise!
President Obama made a surprise trip to Afghanistan on Friday, touching down at 8:35 p.m. local time, according to the White House pool report. Obama has made similar trips to the country before. In March he flew to Bagram near Kabul under the cover of darkness.
Notable quotable
"I don't get to the movies, I don't watch TV. I don't have the time. I've never seen 'Saturday Night Live' in all of these years . . . Maybe I'll try her [makeup maven Bobbi Brown] cosmetics." -- New York City Mayor Michael Bloomberg in a New York Post story
Late-night laughs
Stephen Colbert: "Leading the pack [in an Intrade survey] are the obvious choices -- Mitt Romney and Sarah Palin. But the third place contender is South Dakota Sen. John Thune. Yeah -- that John Thune. The one you've never heard of."
Conan O'Brien: "According to health officials, teenagers have been smoking nutmeg to get high. Man, does this recession suck or what? That's a new low."
Jon Stewart: "[The military] didn't ask for their views? ... I don't know if you can get any more specific about their views than [the question] what would you do if you were showering with a gay guy? Maybe giving the name of the actual gay guy they'd be showering with?" -- referring to Sen. John McCain's comments that the Pentagon report on repealing "don't ask, don't tell" didn't survey what service members thought.
George Lopez: "Todd Palin [is a] stay-at-home father. When I grew up they were called lazy bums."
FOLLOW THIS TOPIC