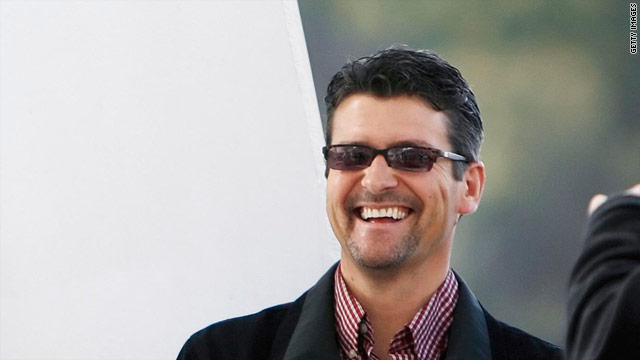 STORY HIGHLIGHTS
Report: "Dancing with the Stars" producers eyeing Todd Palin for next season
Spider disrupts White House press secretary during briefing
Congresswomen are finally getting a bathroom near the House floor
Washington (CNN) -- Politics is serious business, but not all of the time. From the halls of Congress to the campaign trail to the international stage, there's always something that gets a laugh or a second glance. Here are some of the things you might have missed:
From gutting fish to waltzing on the dance floor?
Move over Bristol, papa grizzly may be headed to Hollywood to dance with the stars, E! News reports.
Producers are reportedly trying to get Todd Palin to join the next season of the ratings powerhouse TV show "Dancing with the Stars."
No word yet on what Sarah Palin thinks, though it's only a matter of time before a Twitter post comes out.
Bathroom equality in the House
Nancy Pelosi may have "shattered the marble ceiling" as the first female House speaker, but incoming Republican House Speaker John Boehner has decided to create equal bathroom access for female members of Congress, CNN reports.
According to an announcement from the GOP transition team, a women's restroom will be adjacent to the House floor to accommodate the 71 female members in the next Congress, something current female members live without.
Charlotte's White House web
A spider found its way into the White House briefing room, where press secretary Robert Gibbs tried his best to get rid of it

.
Notable quotable
"I stand in front of you tonight as probably the second-most-famous immigrant in the history of state of California. The first, of course, is Meg Whitman's maid."
-- outgoing California Gov. Arnold Schwarzenegger, to The Sacramento Bee
Notable quotable, take two
"I do believe Carl fell in love with the kerplunk of the turd in the punchbowl."
-- Michael Caputo, the campaign manager for former New York Republican gubernatorial candidate Carl Paladino
From the Twitterverse
The New York Daily News tweets that it may know the whereabouts of WikiLeaks founder Julian Assange, who's wanted by Swedish authorities.
@nydailynews: Yep, seriously. #wikileaks founder Julian Assange may be roaming lower Manhattan. Seen him?
Late-night laughs
Jon Stewart: "So, another 7-11 beverage-based summit for the White House, based of course on the success of the previous beer summit -- the one that ended racism. What are we going to do about Iran's nuclear program? Perhaps it's time for a Four Loko summit. ... That's the kind of summit that ends with the phrase, 'nice doing business with you gentlemen. Has anybody seen my pants?' "
Jay Leno: "President Obama issued his annual Hanukkah message. See, this is what America is all about: When the son of a black Kenyan father and a white Kansas mother [is] elected president, thanks to Latino voters, [and] issues a statement over a Japanese-made computer, serviced by technicians in India, congratulating a Hebrew-speaking people of a land we took from the Native Americans. That's what this country is all about."
Conan O'Brien: "According to the [WikiLeaks] documents, U.S. officials think Afghan leader Hamid Karzai is 'paranoid and weak.' ... When reached for comment, Karzai said, 'I was afraid of something like this, but I guess there's nothing I can do.' "
CNN Congressional Producer Deirdre Walsh and CNN Senior Congressional Correspondent Dana Bash contributed to this report.