2 ex-Edwards aides testify in probe of payments to mistress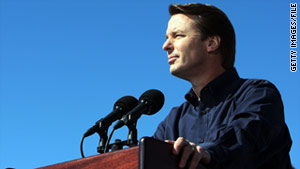 Edwards began his affair with Rielle Hunter in 2006, fathering a daughter, Frances Quinn, with her.
STORY HIGHLIGHTS
NEW: John Edwards' ex-spokeswoman spent an hour in a federal court Thursday
His former deputy campaign manager also testified before the grand jury
Prosecutors are looking into whether Edwards' campaign illegally paid his mistress
After long denying it, the ex-VP nominee admitted to fathering a child with Rielle Hunter
(CNN) -- Two of former presidential hopeful John Edwards' top aides testified Thursday to a federal grand jury looking into payments from the North Carolina Democrat's campaign to his one-time mistress.
Jonathan Prince, who was Edwards' deputy campaign manager during his unsuccessful 2008 presidential run, and then-spokesman Jennifer Palmieri were called before the grand jury, two sources familiar with the case said.
This comes amid the Justice Department's investigation into money that went from Edwards' campaign and from his supporters to Rielle Hunter, who was a videographer with the campaign.
The grand jury has been meeting at the federal courthouse in Raleigh, North Carolina, since last year.
Prince spent four hours in the Raleigh, North Carolina, courthouse on Thursday, reported CNN affiliate WTVD, while Palmieri was inside for about an hour. Both refused comment to reporters as they left the courtroom.

Elizabeth Edwards ends cancer treatment

Elizabeth Edwards on her cancer battle
Edwards began his affair with Hunter in 2006, fathering a daughter -- Frances Quinn -- with her. Yet the former senator denied paternity for more than a year before admitting in January 2010 that he was the father. A week later, Edwards and his wife, Elizabeth, announced they were separating.
In October, Edwards' attorney Wade Smith said that a "sizable" number of subpoenas had been issued in the case.
At that time, Smith maintained that his client -- who was the Democrats' 2004 vice presidential nominee, running alongside Sen. John Kerry -- Smith said he maintained Edwards is innocent and said he welcomes the government scrutiny.
A federal judge last February ordered former Edwards aide Andrew Young and his wife, Cheri, in civil contempt of court and ordered them to hand over a sex tape purportedly involving their former boss and Hunter. Hunter had fought to get the tapes back.
The orders came a few weeks before Young released an embarrassing book about Elizabeth and John Edwards and his campaign. Among other accusations, Young described an elaborate plan that used money from two wealthy benefactors -- late trial lawyer Fred Baron and banking heir widow Bunny Mellon -- that allowed Edwards to maintain a mistress while he sought the 2008 presidential nomination.
FOLLOW THIS TOPIC